Nowadays such places as barbershops are popular. What are they? It is the most common beauty salon, but it is designed exclusively for men.
Barbershops appeared a long time ago – in Ancient Egypt. There have been found the oldest razors, which have survived since the ancient Egyptian civilization. In those times barbershops were called nothing else but hair salons. At that time there was no separate profession of barber and the role of barbers was performed by simple priests.
The first barbershops opened in ancient Greece. Such institutions were considered a kind of clubs for men. And they came there not only to get their hair cut, curled hair, trimmed beards, but also to engage in small talk and discuss news and gossip. Visiting such establishments was considered only a man's occupation. Women, in turn, did not go to such places: they styled their hair at home.
Create your own logo with Turbologo logo maker. It takes less than 5 minutes and no design skills needed.
Go to Logo Maker
Now everyone has the opportunity to visit beauty salons and barbershops, regardless of age or gender. And thanks to this, barbershops have a huge amount of work. Competition in this area is high. What do you need to do to differentiate yourself from the competition? Develop a unique, memorable and versatile logo. In this article, you will learn how to create a logo for a barbershop.
What is a logo?
First, let's clarify what a logo is and what it's for. In everyday life we see thousands of logos every day, but we only remember the ones we pay attention to. Everything mankind creates has a mark from the creator. This makes it possible to promote products and services, as well as spread the word so that as many potential customers as possible will know about them.
A logo is a graphic representation of a brand. It is your face, a trademark and one of the tools of marketing promotion. It creates an image, by which consumers recognize the provider of goods and services. To make your products start to be distinguished from those offered by competitors, it is worth creating a good logo.
You should know that logos are divided into styles:
1. Symbolic
Such signs consist of one or more images. They are rarely used in their pure form, but if you know how to do it, you can create a high-quality and intricate logo.

Examples of symbolic logos: Apple, Twitter, McDonald's.
2. Text
These logos do not contain images. This style uses only the name of the brand. And, strange as it may seem, this is the most common method, which is very popular. Logos of this kind can be found at every step. They are quite simple and easy to remember.

Examples of text logos: Zara, Facebook, Samsung.
3. Combined
Combined logos consist of an inscription and an image. It looks quite unique. Not everyone will be able to create a quality combined logo, but a true professional in the field can easily cope with it.

Examples of combined logos: Burger King, Adidas, Amazon.
What should a logo be like?
During the design process, you may have a question: what should the logo be? Here are a few important aspects:
Legible. Your logo should be easy to read, regardless of the scale of the item on which it is placed.
Multifunctional. The logo will be used on a variety of sites, devices and products. Because of this, it must be multifunctional: it must not lose its quality and legibility when used.
Memorable. To make the logo stick in the audience's memory, put it on packages, website, banners, menus, business cards – anything that is related to your business and brand. This is how you advertise your product, service and company. Remember, the purpose of a logo is to make people recognize you.
Simple. You don't have to embody all your ideas and desires in one logo. It is worth using only 2-3 colors and do not overload the design.
Adaptive. Rebranding by season is not such a bad idea. Closer to the New Year, you can slightly change the design sign. For example, the Coca-Cola company makes some changes to the logo every winter: it adds a picture of snowflakes, snowmen, a picture of Santa's hat, etc.
How to choose a color, icon and font for a barbershop logo?

The logo should emphasize the rank of the barbershop and match its overall style. Great if it communicates the specifics of the work to customers, attracting new potential customers.
A quality logo will easily catch the attention of customers and subsequently be associated with your company, making it stand out from the competition.
To create the perfect logo, you need to choose the right color, symbol, and font for the logo. They should match each other and arouse customers' interest in the product or service.
Icon
The image communicates information about the firm's work as well as engaging the audience. Popular signs that are chosen as barbershop logos are portraits of members of the stronger sex, razors, scissors, combs, drawings of beards, and mustaches.
In some cases a head or skull is depicted. Thus, you get a hipster logo. Such signs are only suitable for a certain audience. But the variety of icons is amazing, and you can choose any one you like.
Color
Colors evoke specific emotions and feelings. A classic in barbershops is the use of black, white as well as gray. Logos like this look trendy, status-oriented, and spiritual.
In order not to be like competing salons, choose red, azure, blue, yellow and other rich tones. Let your imagination run wild.
Read this article for tips on choosing a logo color.
Font
The style of the text makes the logo unique and indicates the direction of the company. Hard and strict fonts are more commonly used in this area. If you want to reflect the firmness, strength and courage, choose standard text styles. And to emphasize simplicity and spontaneity, choose handwritten fonts.
When choosing a font for the logo, you should take into account the peculiarities of the company. Create a sign that will be associated specifically with your salon.
It is necessary to think outside the box, include imagination. In this case, the logo will be interesting and will be a highlight of the brand. The right typeface will not only please the audience, but also encourage them to visit your barbershop.
For a guide on choosing a logo font, check out this article.
How to make a logo for a barbershop?

There are several options for creating a logo. The choice depends on your budget, as well as the requirements for the result. Let's consider the main ways.
1. Use logo makers
These programs are designed to make life easier. If you have no artistic skills or just don't want to waste your time, the program will help develop a logo in a short time. Often these programs are free or cost little money.
An example of such a service is the logo generator Turbologo. In it, you can make a barbershop logo in a couple of minutes for free.
2. Hire a designer
This method will take more time: it will take days to find an experienced and responsible specialist. If you make a mistake, you will lose time and money. So carefully check the portfolio of the performer before trusting him.
You also need to be clear about exactly what you want. This will allow you to get the perfect logo. The cost will depend on the complexity of the work and the requirements for the final design.
3. Draw it yourself
And the last option – to draw a logo yourself. You can do this in a graphic editor (for example, Photoshop). This method is the most budget-friendly, but the most complex: it is not suitable for users without experience and skills in creating logos.
Barbershop logo ideas from Turbologo
In Turbologo generator you can make a logo for any company, including a barbershop. A gallery of free logo templates is open to users, among which you can choose the design you like and refine it.
















Conclusion
A logo is the starting point for creating brand uniqueness, so it's worth designing one at the start of your business. You can make a spectacular logo on a small budget: compare all the ways and choose the one that suits your needs.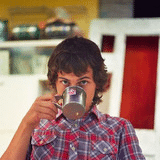 I'm a product and graphic designer with 10-years background. Writing about branding, logo creation and business.