Your logo is one of the most recognizable features of your company. Customers who use your products or services remember your logo in the first place. Therefore, this business symbol should be simple, unique, and memorable.
Previously, creating a professional logo on your own was not an easy task. But currently, there are several free and paid tools that work great for creating professional high-quality logos for your business. Read more about the best logo design software for creating logos in the review below.
Create your own logo with Turbologo logo maker. It takes less than 5 minutes and no design skills needed.
Go to Logo Maker
Logo making software: common features
How to create a logo for your business quickly and efficiently? Use the best software for making logos. With the help of such online tools, you can make a logo of any complexity in a few minutes. The software is equipped with standard design templates, fonts, images, etc. Also, the best utilities for creating logos come with convenient drag-and-drop interfaces.
Modern software for logo design helps owners of companies and brands to create a recognizable corporate identity. Thanks to the variety of such tools, business owners do not need to spend a fortune on developing a professional logo. Take a look at the five best logo creating softwares in 2022.
Adobe Illustrator

That online service was launched in 1987. Since then Adobe Illustrator holds the leading position in the software market. You can use that tool to create drawings that can be scaled to any format.
Also, users can easily import any scanned images that they have created in this program. An online tool is a great option for creating business logos in a variety of formats and styles. Illustrator has many templates and vector objects with logos to help users get started.
Adobe Illustrator is one of the best programs as it allows you to easily manage every aspect of logo design (creating shapes, brushes, perspective grids, gradients, and much more).
Turbologo

The most popular multifunctional Turbologo service is able to create hundreds of high-quality variants of your logo in just a couple of minutes. Thanks to that advanced program, the user can easily design the logo of a company in one evening without the help of professionals.
The virtual Turbologo constructor is easy, fast, and efficient. It is an intuitive software, with the functionality of which even beginners can cope. The program allows you to change colors, symbols, and sizes. Turbologo users quickly create and instantly download all the logo files they need. Here they receive all types of high-resolution files, such as SVG, PNG, and PDF. Also, the Turbologo service provides options for color and transparent logos.
Turbologo users can develop and download ready-made versions of the logo for any media profile.
Canva

Canva software allows you to turn the most fantastic ideas into amazing designs. With that tool, users can create logo designs for web or print. It can be blog graphics, presentations, FB covers, different flyers, original posters, particular invitations, etc. Working with Canva, you can easily create a logo using the templates presented here. Bring the brightest ideas to life using the right colors, fonts, and other elements. To start, just select an item and run editing.
That logo design software allows you to upload your own images and files. Besides, here you can try out lots of photo editing capabilities as well as text and style effects. Canva logo design tool comes with around 1,400 templates and so you can apply them as the starting point for making your company logo.
Coreldraw

Making a logo with Coreldraw is an intuitive and convenient process. All you have to do is create general elements and shapes to modify them according to what is required. Besides, users can easily write text and add effects to add more memorable features to the logo design.
The most popular elements for logo design in this editor are tools like ellipse, rectangle, etc. For a more spectacular look, users take items like Bevel, overlay contour, etc. Coreldraw is the most commonly used program in the modern IT field for designers when it comes to graphic software.
DesignEvo

DesignEvo is a new virtual tool designed to create logos. In its wide library of templates, users find the design they like most, and then customize it according to their preferences. This way the best logo version is obtained.
DesignEvo is a free-of-charge logo tool with 10,000+ templates. You can try it out to create a compelling, unique logo in a few minutes. The main advantages of this service are an advanced logo editor and the function to create your own logo of medium complexity from scratch. Even with a small number of functions, the focus and flexibility offered by DesignEvo make it an excellent program logo design for making your business logo.
How to choose the best tool for making logo?
Logo programs come with different features. So, before choosing the one for making your business logo you should learn important points to meet your design needs:
Easy to manage: How easy is that logo tool to work with? Consider your design skill level to make sure you select a program that you can easily deal with.
High professional level: Never accept low-quality logo programs. Make sure that the maker you choose comes with a professional-grade design. Do not admit downgrading your brand.
Changeable settings: You never make the best stand-out logo for your company if using generic templates. Top logo creator offers a wide range of customization options to help you make a fine image.
Price: While a logo design program is less expensive than hiring a designer, it's important to clarify their payment structures to make sure the online logo software fits your budget.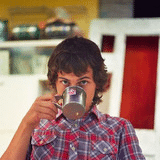 I'm a product and graphic designer with 10-years background. Writing about branding, logo creation and business.