Logo generators are tools for creating logos quickly. With their help, any user can make a logo in just a few minutes by following the service's instructions.
We've compiled 6 of the best logo generators that will be at the top in 2022. Check out each service and choose the right generator for you.
Create your own logo with Turbologo logo maker. It takes less than 5 minutes and no design skills needed.
Go to Logo Maker
Ways to create a logo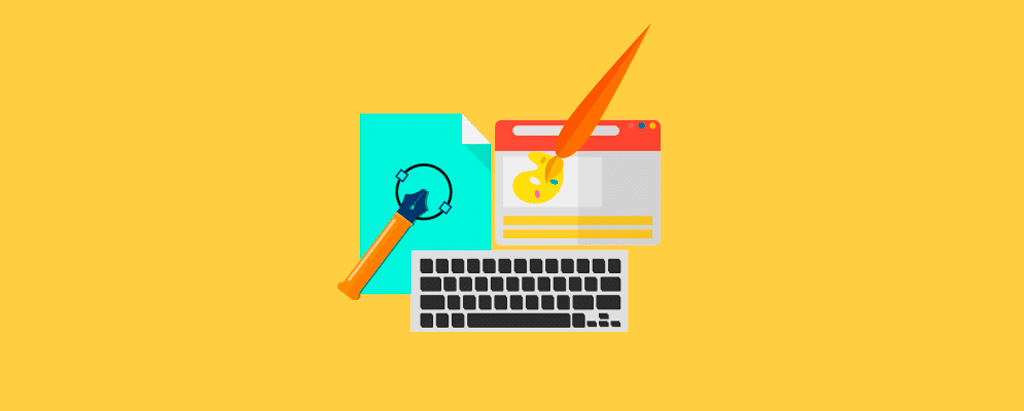 If you decide to create a logo, you have 4 ways to design it. Consider the pros and cons of each way.
Draw it yourself
In this case, you become the direct creator and author of your logo. The main advantages of this option are that you are in full control of the whole process, and you don't have to pay a cent. However, you must have good drawing skills and be able to use one or two graphic programs.
Order from a designer
You should have a clear idea of how you want to see your logo, be able to explain your wishes to the designer. You can find him among your acquaintances or on the Internet at a stock exchange. After that, you agree on a deadline. During the process, you make adjustments so that the logo can fully meet your expectations.
Order from a design studio
The services provided by a design studio are similar to those offered by an individual specialist. But here everything is more disciplined and organized because a whole team of professionals works.
To do in an online generator
The easiest and most convenient way to get a logo is to make it in the online logo generator. In this case, you control the whole process, make adjustments as you develop and get the most perfect result.
The best online services for creating logos
To make it easier for you to choose a logo design service, we've compiled and analyzed the best logo makers on the market. Take a look around to find the perfect tool.
1. Turbologo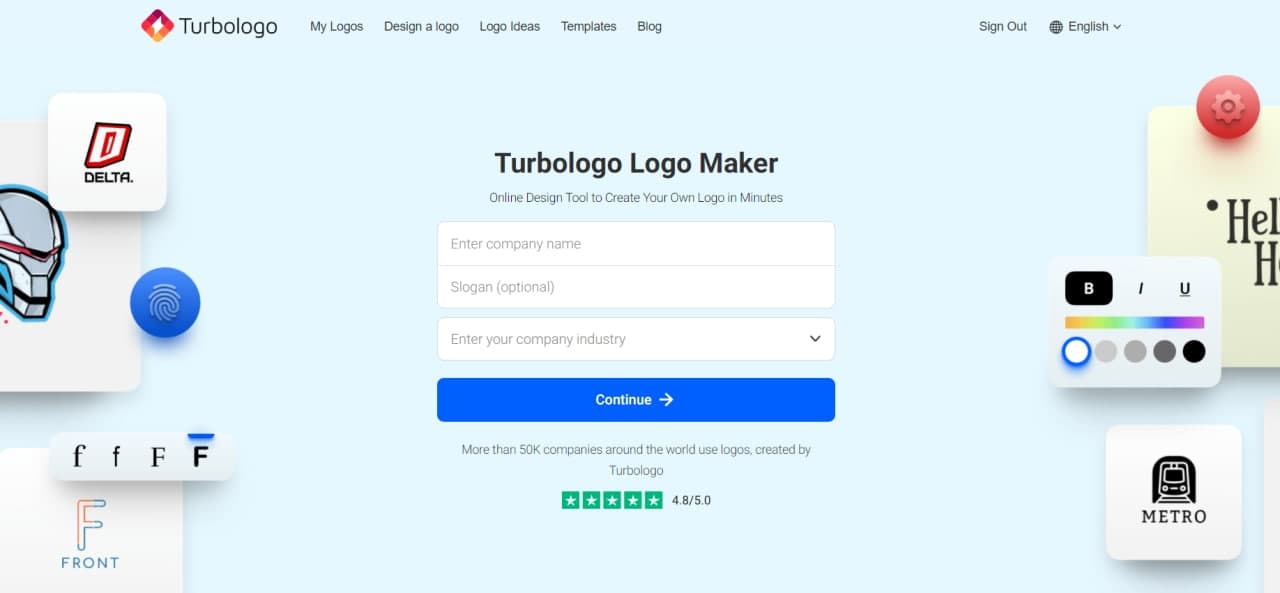 Turbologo can be a web-based design tool that can aid you in creating your distinctive logo for your business in only minutes. It is used by more than 50 000 businesses across the globe, with Turbologo you can create a distinctive, high-quality and professional logo designed within a matter of a few minutes.
Online logo maker offers users a large selection of logos for free to select from. They may upload personal photos or design their own made from scratch. It's simple, quick and cost-effective!
To make a logo in Turbologo you need to go through 4 steps:
Enter a name and specify the scope of the company.
Select the desired color of the logo or leave the choice of colors to the service.
Select several icon variants or skip this step to let the service select icons automatically.
Choose your favorite logo from the many logo options offered by the service, modify it if necessary, and download it.
Rate plans
LITE ($16) – includes one PNG logo file.
STANDARD ($32) – includes several types of files with high resolution on the original color and transparent background, the logo in vector format, the ability to create new versions of the logo unlimitedly, full copyright and commercial rights, free lifetime support.
BUSINESS ($64) – includes everything from the "Standard" plan, plus access to a brand kit that can be used to create corporate identity, business cards, letterhead, social media covers and profiles, envelopes, watermarks and desktop wallpaper.
2. Wix Logo Maker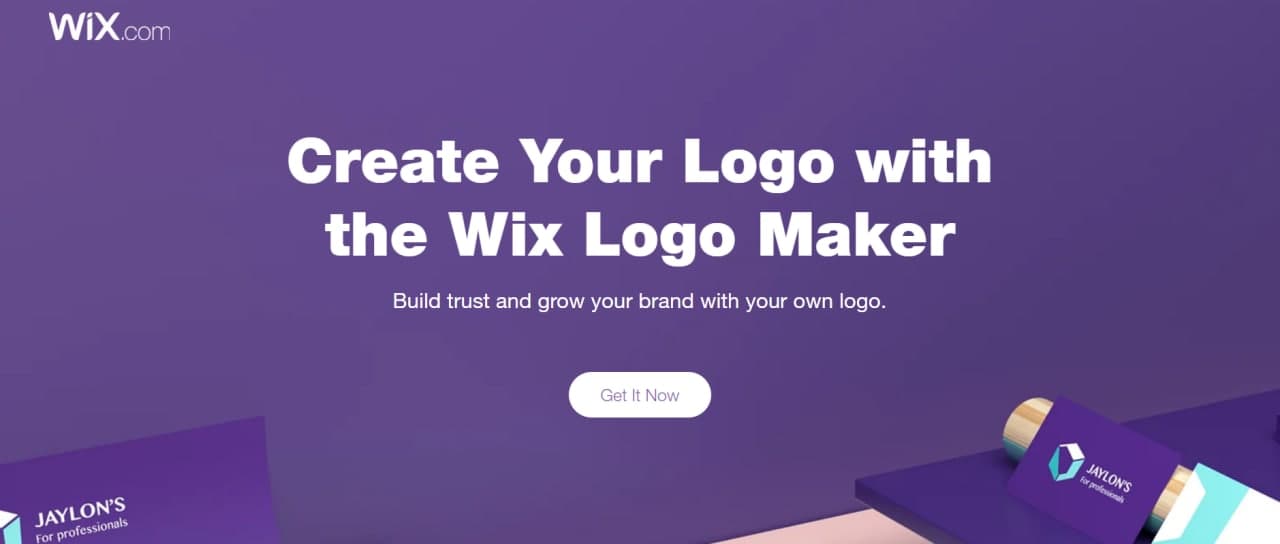 Wix Logo Maker is an application developed by the company that builds websites Wix. With Wix you can create not just a website as well a logo.
The simple-to-use logo maker comes with the latest technology, such as artificial intelligence, which will aid you in creating an impressive and memorable logo. If you've been seeking an easy and fast method to design your personal brand, Wix will help you.
To make a logo in Wix Logo Maker you need to go through 5 steps:
Enter the name of your business or company
Specify the scope, keywords, and choose an appropriate style
Choose one of the suggested logo options
Customize the logo if necessary
Download a logo
Rate plans
Professional ($50) – includes full logo usage rights, standard files, dimensionless logos, social media logo files.
Basic ($20) – includes the rights to use the logo and standard logo files.
3. Canva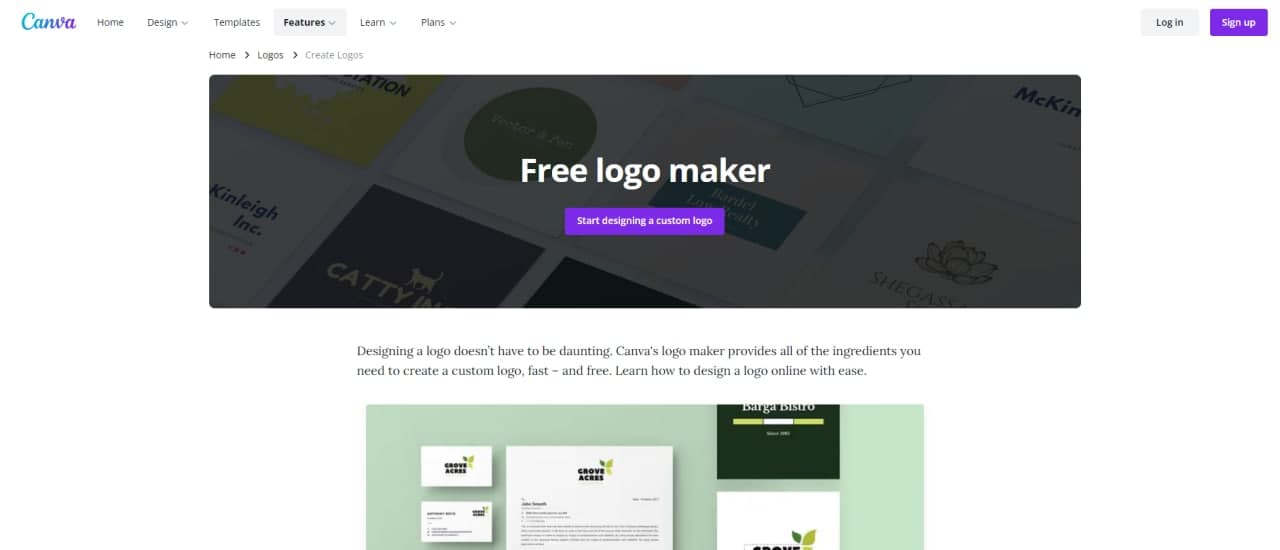 Canva is an excellent online tool for designing graphics. It can be used to do everything from basic editing photos to designing images for flyers, social media and logos.
Canva allows you to design various designs. It is also important to note that Canva doesn't need any prior knowledge in design. This is what makes it useful for editors.
To make a logo in Canva you need to go through 3 steps:
Choose a logo template
Customize the design
Download the result
Rate plans
Free ($0) – includes many free templates, the ability to invite people to the team, 5 GB of cloud storage.
Pro ($34.80 per year) – includes everything in the "Free" plan plus over 100 million premium photos, videos and graphics, ability to instantly remove backgrounds, resize designs, save designs as templates, 100GB of cloud storage, schedule publishing content for social media.
Enterprise (Price upon request) – includes everything in the "Pro" plan plus the ability to create a corporate identity, team access control to applications, unlimited cloud storage, 24/7 corporate support.
4. Tailor Brands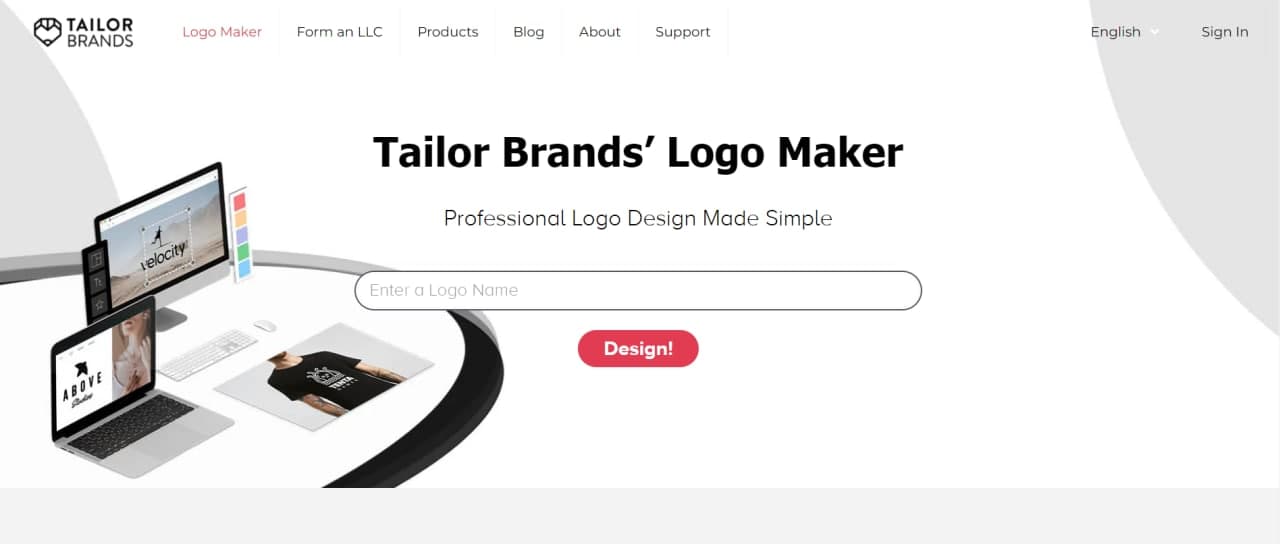 Tailor Brands offers a set of design and branding tools that are powered by machine learning for non-technical people.
Tailor Brands lets businesses, as well as individuals, design a complete "brand identity" with logos as well typography, color designs as well as other elements on the internet and in print.
In another way, Tailor Brands is a toolkit that helps your venture "look good" everywhere from your Facebook page, to business cards, to websites.
To make a logo in Tailor Brands you need to go through 5 steps:
Provide information about the company
Choose your logo style
Choose fonts
Customize the design of the logo you like
Download the logo
Rate plans
Basic ($3.99) – includes high quality logo files, full logo ownership, social media logo sizes, digital map, ability to unlock all templates, upload your own images, access to stock images.
Standard ($5.99) – includes everything in the "Basic" plan, plus vector logo EPS files, ability to make a business card, branded business deck, branded presentation, seasonal logo generator.
Premium ($12.99) – includes everything in the "Standard" plan, plus social media autoplanner, social media analytics tool.
5. Looka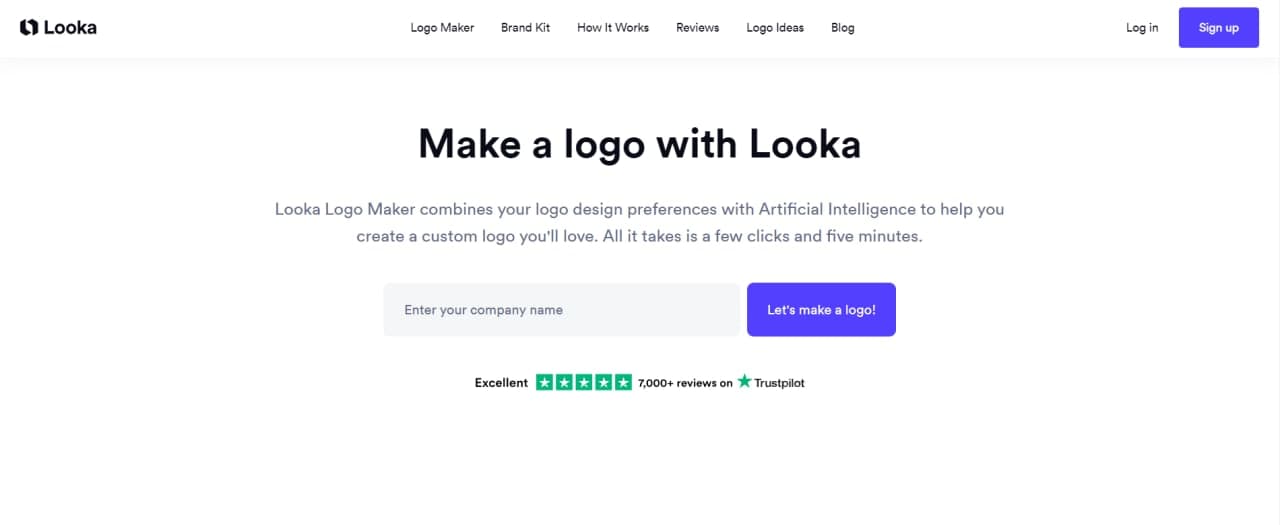 Looka was designed to allow entrepreneurs to utilize artificial intelligence quickly and cheaply design high-quality logos.
Looka performs much more quickly than a professional designer working with standard editing software. The creation of logos based upon your preferences for design only takes just a few seconds.
To make a logo in Looka you need to go through 7 steps:
Enter company name
Choose the company's field of work
Choose several logos that you like
Pick a few colors you like
Choose several types of symbols
Choose your favorite logo and refine it
Download
Rate plans
Basic Logo Package ($20) – includes one PNG logo file.
Premium Logo Package ($65) – includes several high-resolution file types (PNG, EPS, SVG, PDF), several color variations (including transparent background), unlimited changes after purchase, full ownership, lifetime technical support.
6. Placeit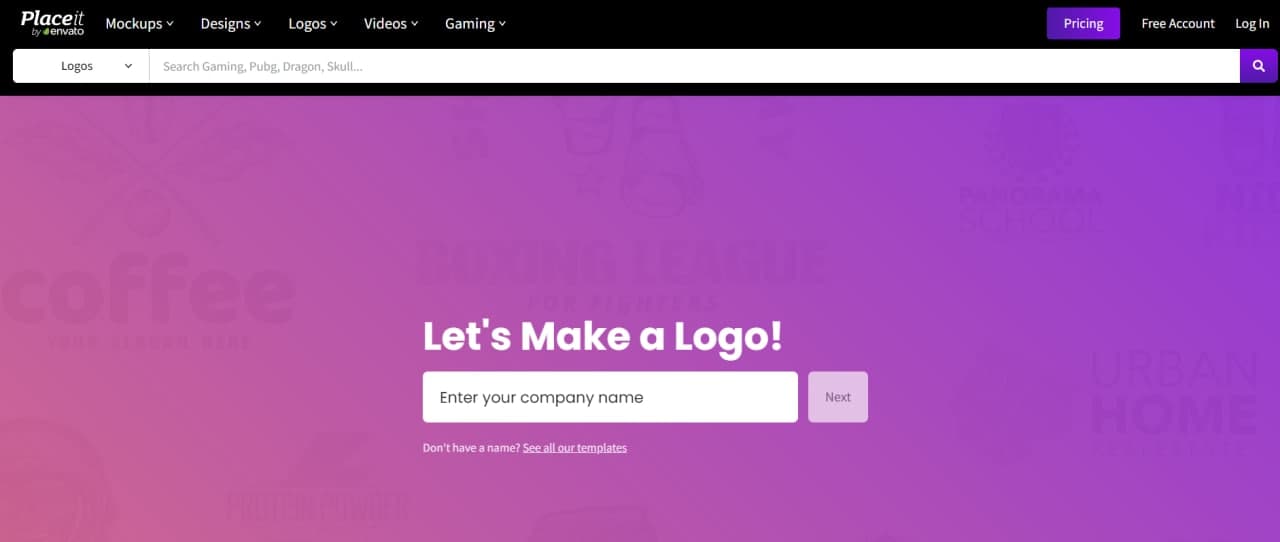 For most people, Placeit is extremely easy and simple to use. It's a valuable source for retailers selling online with very little or no design, technical or artistic skills and is able to create videos and layouts using the thousands of tools for support that are available to the users.
Placeit is a huge collection of more than 87,000 templates. Their primary objective in creating Placeit was to offer hundreds of templates that could simplify the process of designing and make it easier for users of all ages!
To make a logo in Placeit you need to go through 5 steps:
Enter company name
Choose an industry
Select your favorite logo
Customize your logo
Download the result
Rate plans
One logo ($39.95) – includes logo without watermarks, high resolution PNG (4000x4800px), commercial use of logo.
Unlimited subscription ($89.69 per year) –user will have access to all templates (mocaps, designs, videos, logos).
Conclusion
Above are some of the best logo manufacturers available on the market in 2022. Each of the logo builders presented in the article has its own characteristics, so base your choice on your personal requirements.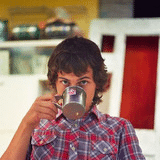 I'm a product and graphic designer with 10-years background. Writing about branding, logo creation and business.