Most of us have seen at least ten or twenty logos from different companies. Logos are images consisting of graphic and text parts. The logo of any kind of company has to look great both printed and published online, so it is most often recommended to use a transparent background instead of a color. In this article, we'll tell why.
Create your own logo with Turbologo logo maker. It takes less than 5 minutes and no design skills needed.
Go to Logo Maker
Application of a logo with a transparent background

Most often, such logos are found on companies' websites, pages in social networks, blogs about products or advertising posts.
The main reason why companies choose logos with transparent backgrounds is the "flexibility" of those – such logos easily fit the design of any website, nicely match any color palette used on the web page and are quite in harmony with any other elements.

Lately, logos have been used more often as watermarks (also found on bills of any currency in the world). This allows us to make products unique and prevent faking, which brings us another advantage – they can be used as a legal guarantor of quality and genuineness.
All wedding photographers add their logos to clients' pictures, which is, in fact, advertising free of charge. The newlyweds will certainly send the pictures out to everyone they know, making them notice the brand of the creator of such photographic masterpieces. And that will also spread the word in social networks where it's often not easy to understand who the author of the picture is and where they can be found.
Image formats for logos with transparent backgrounds
However, logos have one unfortunate feature. Not all modern image formats may serve well when it comes to creating and saving ready results. In this section, we'll tell you about the optimal ones.
PNG

This is, probably, the most popular option which is, basically, a raster image format allowing to save compressed images with minimum quality losses. It was invented at the end of the 20th century, precisely, in 1996, as an unofficial (pirated) version of GIF which was popular then.
Probably, it became popular because of its convenience and the wide range of abilities it provided image editors with. Another advantage is: PNG is supported by all modern editing software (Adobe Photoshop, Adobe Lightroom and Illustrator, etc.).
Over 80% of modern logos were created in this format and have been used on the web pages of many successful businesses.
GIF
This format was already mentioned a little above here. The old GIF was overshadowed by PNG but is still used sometimes. Probably, the most popular use of it is when you publish memes on a social network. The format was developed back in 1987. It can't be called the most convenient logo format but there are some ways to make a background transparent with its help.
For example, make one of the 256 colors transparent, so users will see the background of the paper it's printed on or the web page where it's published. But here's the bad side: it's impossible to set the level of transparency in GIF, which is why it is used rarely by only a tiny part of modern businesses.
SVG
The vector SVG format has one feature that allows setting the level of background transparency, using full-opacity (basically, changing numbers that are possibly interesting to programmers but not everyday users). The format was created on the basis of XML (extensible markup language), which makes placing a logo in this format on a website way easier.
Let's note that SVG is used most often by true professionals, designers and programmers. If you're an everyday user with basic knowledge of how a computer works (just like most of us, right?), there are less complex formats for you out there.
Several steps to transparency
Usually, all logos are created with a transparent background (when ordered from a freelancer or a professional graphic designer), unless you agreed to fill it with some color in advance. And if you get a color-filled logo, don't get upset right away. Want to make it transparent? Welcome to the famous Photoshop! There are a lot of online videos telling you how to cut the background off and save the result in one of the formats we mentioned above.
If you're so lucky that you've got a PSD file (of Adobe Photoshop), things are much easier. Open the file, mark all layers except the background pressing CTRL/CMD. Then press CTRL+C, create a new project, and press CTRL+V. Now, you have the transparent logo you wanted. And, if you wish, you can edit the color palette, and add missing elements – YouTube with a lot of e-learning videos is at your service.
What if I don't have Photoshop or another editor?
You want to create a logo and understand how important and necessary it is. But, unfortunately, you don't use any image editor, and don't really fancy paying freelancers for such a service? Want to do that yourself but don't know how?
<iframe width="560″ height="315″ src="https://www.youtube.com/embed/FhsLzEGgo84″ frameborder="0″ allow="accelerometer; autoplay; encrypted-media; gyroscope; picture-in-picture" allowfullscreen></iframe>
There are online logo creation services to help. You'll learn to use them in minutes and get a great result at a ridiculously low price. One of such services is Turbologo, an online logo constructor. A lot of images, text templates, and symbols become great aides and save much of your time as you build your own amazing logo. Your logo can also be easily saved and stored on your computer in any format you need.
So, this is how easy it is to create a logo with a transparent background for your online store, advertising campaign, or printed posters for a startup. And, finally, we wish you to always pursue success, so that your company will enjoy it to the max.
Frequently Asked Questions
What is a transparent background logo?
Quick definition: Transparent logo refers to a logo that has a transparent background. There is no background. PNGs are the most popular file type for transparent background logos. These files can be used to display millions of colors in small file sizes.
What does transparent background refer to?
Transparent refers to an image or graphic. An image that is clear can have the same effect as any other image. The same image looks different on each background, but it is identical.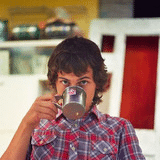 I'm a product and graphic designer with 10-years background. Writing about branding, logo creation and business.