When starting a business there are many steps that you need to take. Each step is important for a specific reason. One of the most difficult tasks is choosing a business name. Because your business name is more than just a name. It is also a brand that is associated with your products and services.
Create your own logo with Turbologo logo maker. It takes less than 5 minutes and no design skills needed.
Go to Logo Maker
These 15 business name generators will help you think creatively, brainstorm and overcome the mental block that may prevent you from finding the right name for your company. To make the best choice, get input from your friends, family, colleagues and business associates.
Turbologo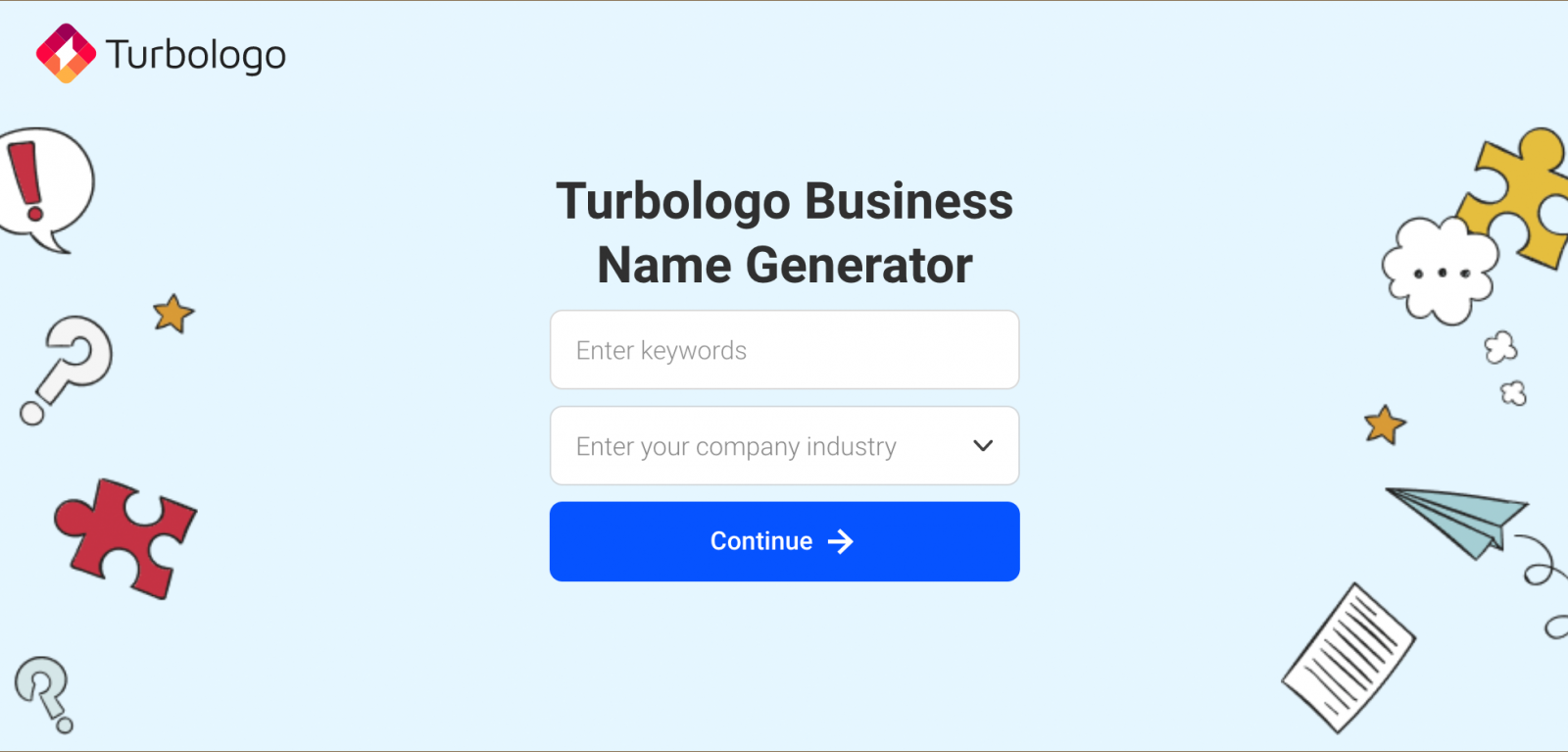 Turbologo is a business name generator that can help you find a unique business name. Enter some keywords that describe your business and we'll generate thousands of creative, targeted names for free! Turbologo's powerful computer algorithms will help you generate thousands of unique name ideas for your business. Whether you are a new startup looking for the perfect name or an existing business and want to ensure that you have the rights to your trademark, Turbologo has got you covered. In just one click, get thousands of tailored name suggestions and start building successful brands.
Shopify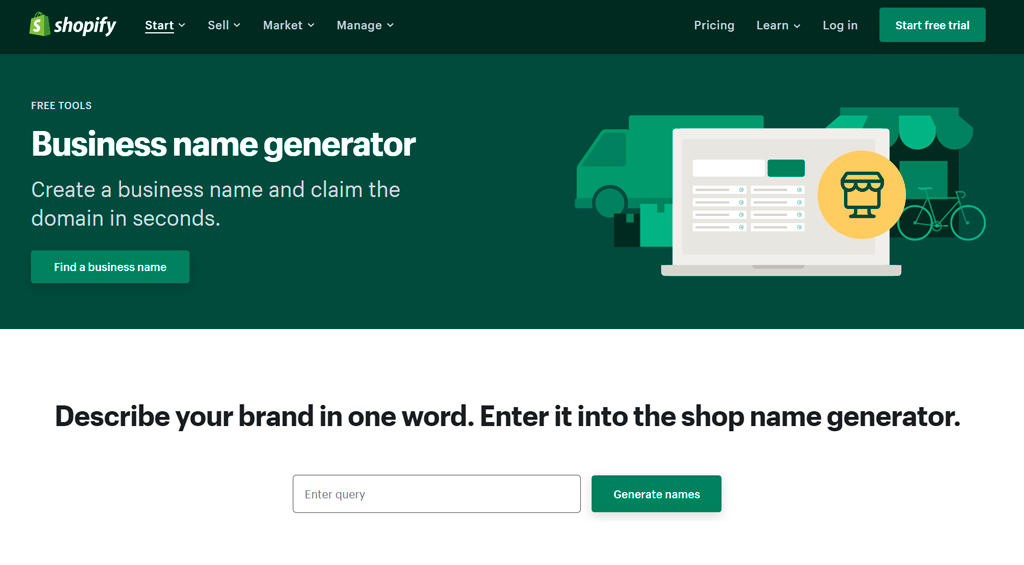 Shopify is a great place to find a company name generator. Shopify has hundreds, if not thousands, of business names. Shopify shows only business name suggestions with available domains. This makes it simple to create an online presence. It's also designed to give you unique business names that will inspire you.
Another great thing about Shopify's business name generator is that you can sign up for a Shopify account and launch your first Shopify store with ease after you select the perfect name. Shopify's powerful features allow you to start your first eCommerce store immediately.
Anadea Business Name Generator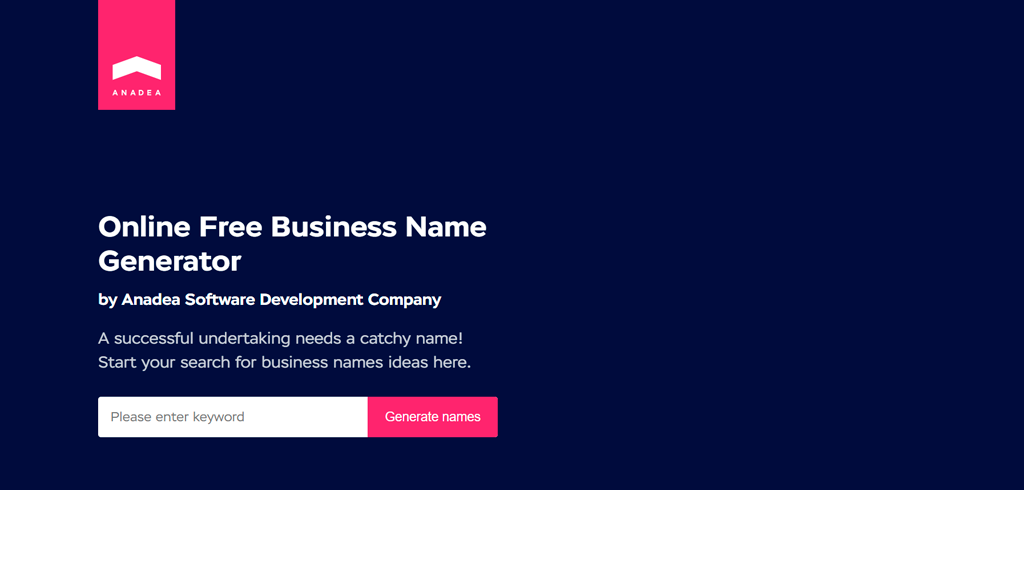 This free tool will help you choose the right name for your company, website, or app. To generate name suggestions, simply enter keywords that are relevant to your business.
Name Mesh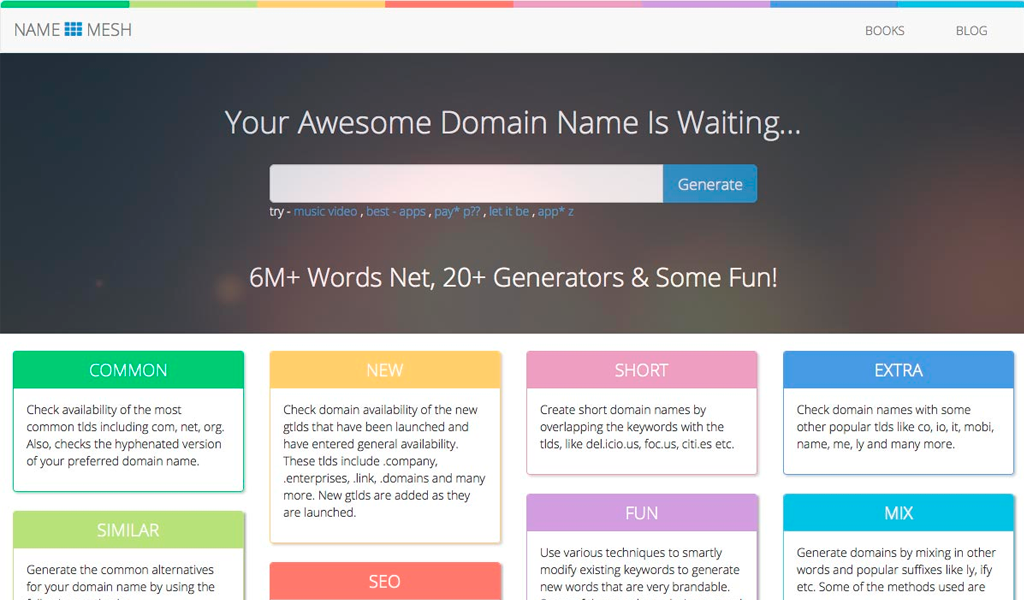 If you have specific keywords you want in your new domain, Name Mesh might be the perfect company name generator for you. Based on your keywords, the tool recommends relevant domains. It also divides the suggested names into various categories, such as new, similar, or common. This is a great way to find the right name for you. These categories are broken down into thousands of names.
Names with domains available will appear in green text. Names without domains will appear in red text. You can also check the "Hide Registered" box at the top of the page to see available domain names. You have many options with this startup name generator. For example, you can change the length of the characters to suit your preferences or what you are looking for.
Wordlab Business Name Generator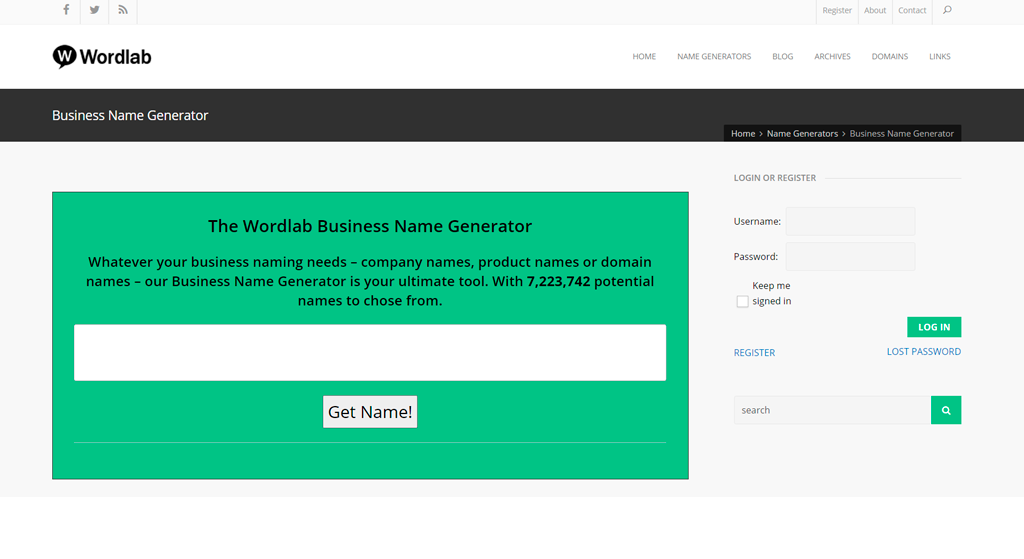 The business name generator generates random business names from more than 7.2 millions potential names. To get assistance from Wordlab, you can sign up for a free account.
WebHostingGeeks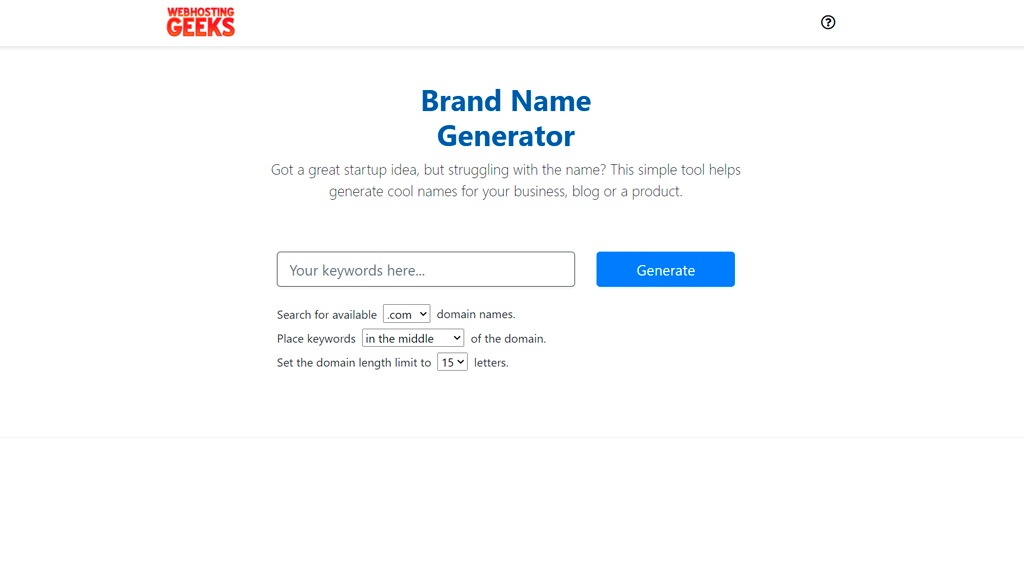 WebHostingGeeks has a great tool for creating company names. The tool asks you to input the keywords that best describe you business and to define the type domain you are looking for (.com or.net). It also allows you to specify where the keywords should appear in your domain (at the beginning, middle, or end). You'll be able to generate a more specific list of business names by answering these questions.
This company name generator has a great feature. It shows you the availability of each option's domain and Twitter accounts. Click on the name you want, and the tool will check for those things. The results are displayed in a separate window. The generator also provides a list with registrars that you can use for the registration of the domain. It's a useful tool for anyone looking to find brand names that are available on social media.
Naming.Net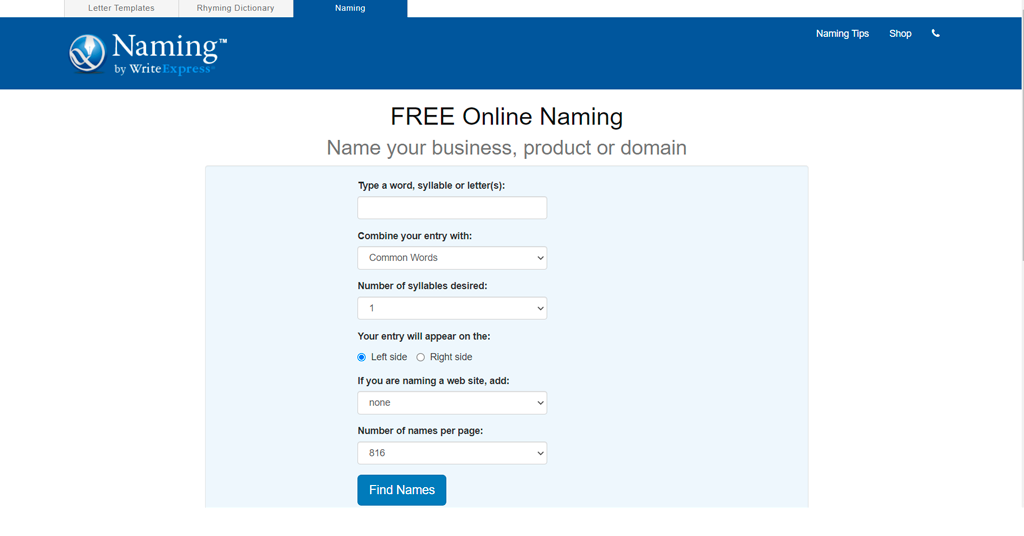 The name generator lets you enter specific criteria to generate a list with 24-816 names. You can enter a root word, syllable or letter and specify whether you want to add rhymes, Latin roots, Greek roots, or other words for variations.
Getsocio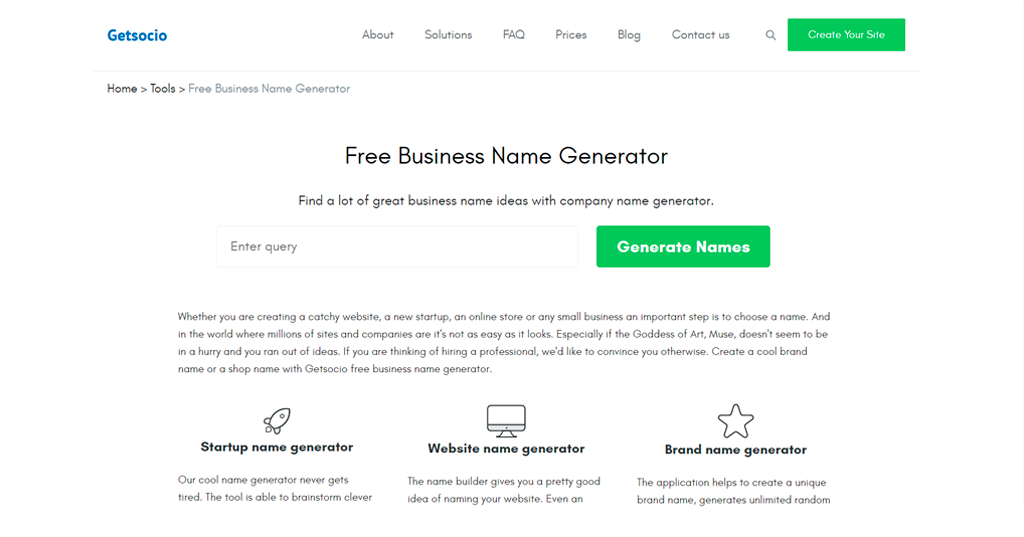 Getsocio's brand generator allows you to enter a keyword that you want to include in your domain. There are thousands of domain names that can be suggested for you. Based on your keywords, the tool can generate thousands of unique names. Even unfamiliar phrases can inspire it to generate names that inspire you and create a unique brand image.
Your domain name will be shortened to.getsocio.com, instead of the standard.com domain. After you have chosen a domain name, you will need to fill in information like your name, email address and password. This will allow you to create an eCommerce store using this cool business name generator.
Dot-O-Mator Name Generator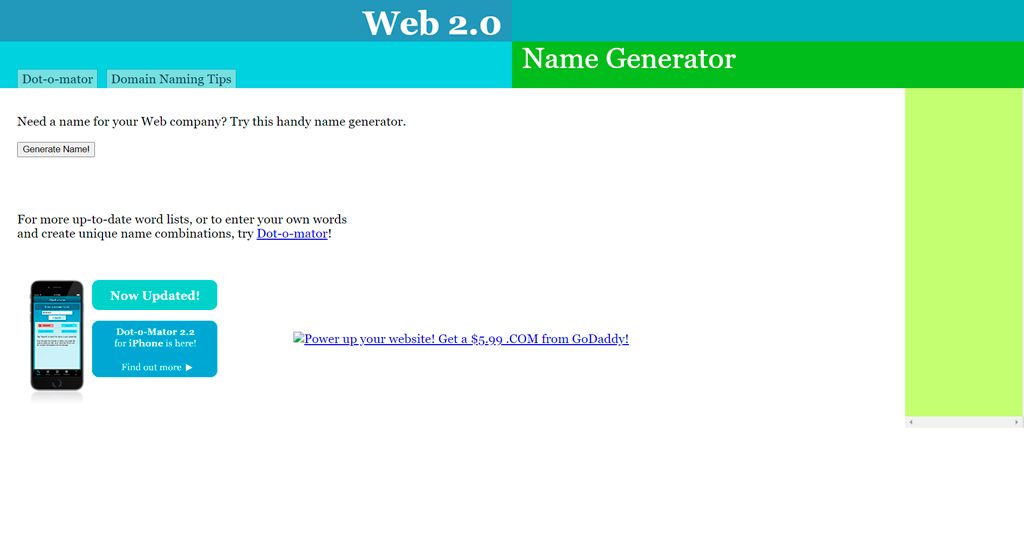 This simple generator displays random names when you click the button. Keep a list of possible names and check to see if it is available.
Brand Root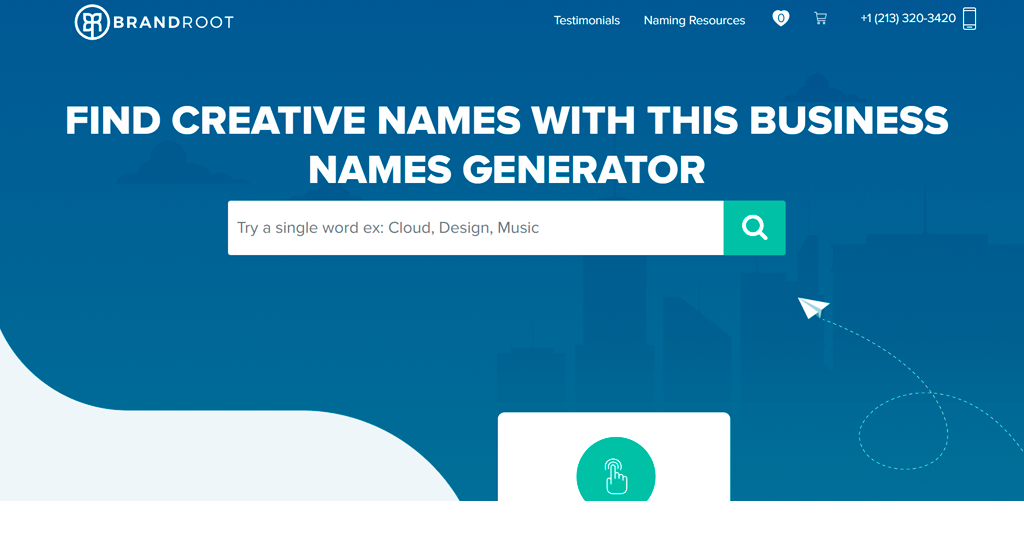 Brandroot is an innovative business name generator that uses the registered.com domain to generate creative names. Each listing name is carefully selected and then offered for sale along with a professional logo. To find the right brand name for your niche, search by keyword or category.
Some names are more expensive than others, but you'll still find good ones for companies. To avoid being shown names of companies that are too expensive, you can choose your price point. When you purchase a brand name you love, you also get the logo design that comes with it.
Namesmith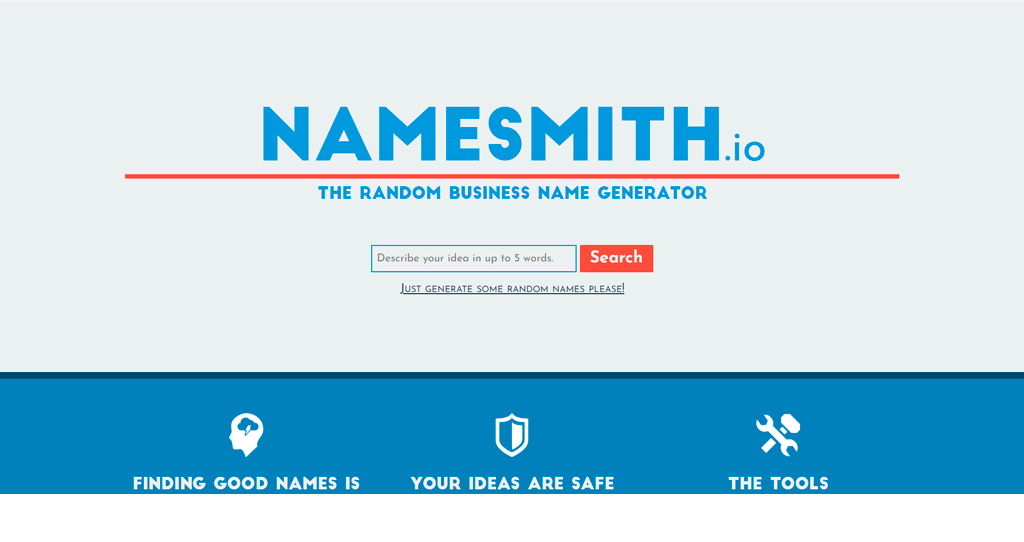 Namesmith's brand name generator allows you to include up to five keywords that you'd like in your domain name. You'll see domains that have the same keywords, combinations, rhymes and suffixes as you select, depending on what keywords you chose. The tool offers many name suggestions algorithms. The tool will create portmanteaus (a combination of two words such as breakfast + lunch = brunch) from your keywords. It will also add suffixes/prefixes to make it more interesting and give you ideas for catchy company names.
Oberlo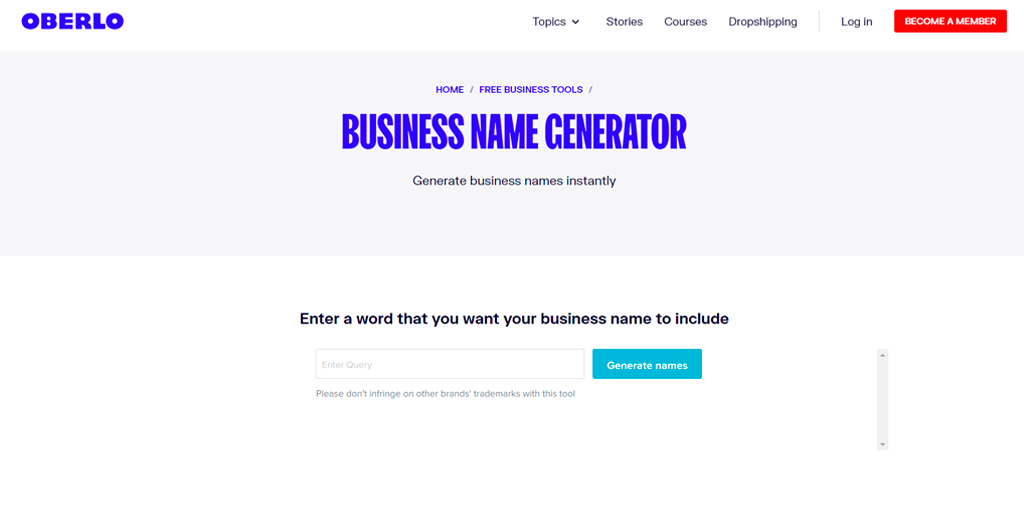 The Oberlo Business Name Generator simplifies the process for finding a business name. You can find out more. Simply enter a keyword-relevant to your core company concept and click "generate name". Several pages will display unique business names for you to choose from. Scroll through the options to find the name you want. The generator will then register the.com domain. That's one less thing to worry about when starting your own business.
You can use the business name generator by entering variations of words in the search bar until satisfied with the results. If you are unhappy with the results for a term such as "clothes", then you can try again by narrowing your search or changing how you want to present it. You could try "vintage clothes" and "plus-size clothes". The tool's algorithm will give you hundreds of creative options once you have entered a keyword. The Oberlo brand generator is free and easy to use. It's great for small business name research.
Name Station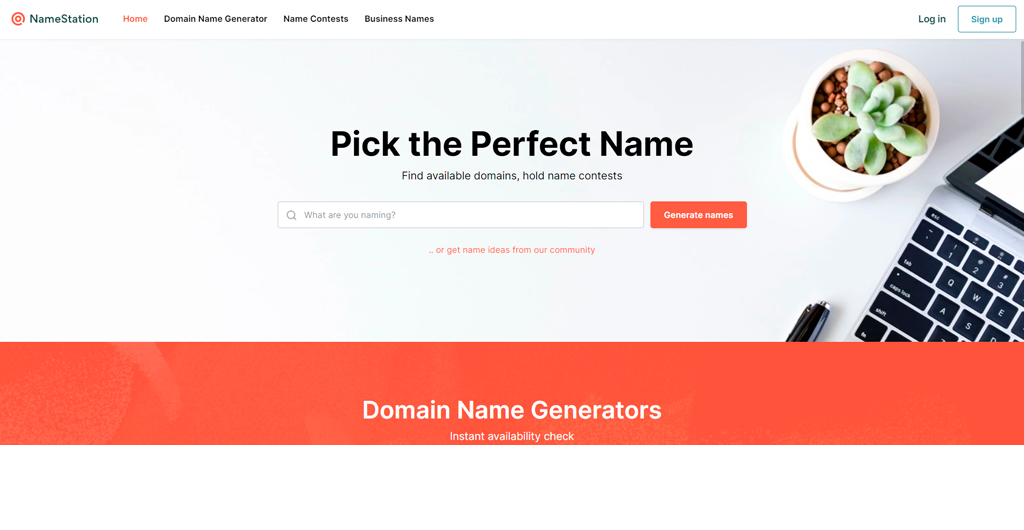 Name Station provides a great list of company names and a free generator. Simply enter the keyword in your brand name into the empty field to see a list of domain names. To simplify your search, you can sort the list to see all available domains.
Name Station also offers pages of domain ideas to help you create the perfect business name. This company name generator combines creative thinking with powerful research tools to help you find brand names that fit your needs.
Business Name Generator (BNG)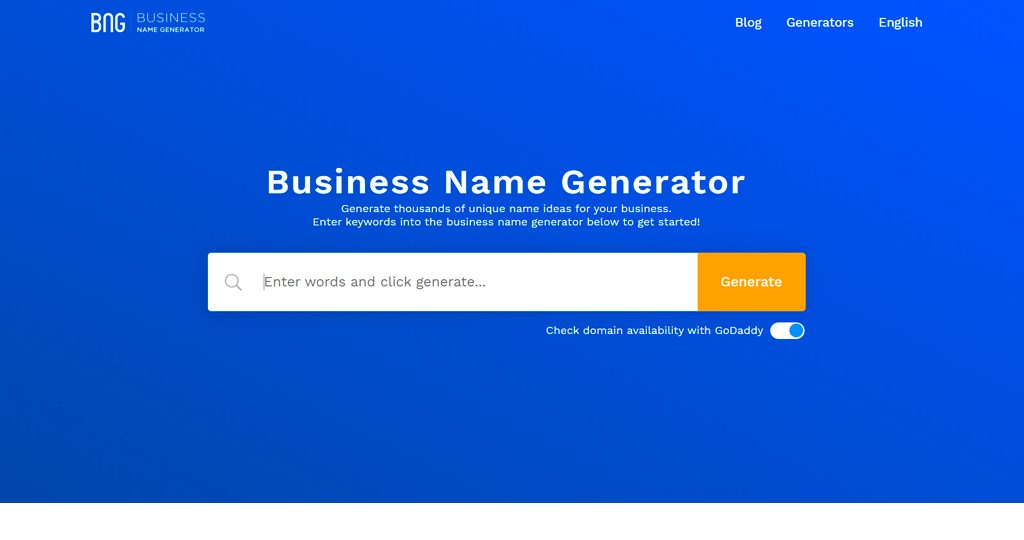 This name generator can be used by simply entering a word or a few words. It will then generate a list with possible business names. This tool will identify available domain names for each business name.
Freshbooks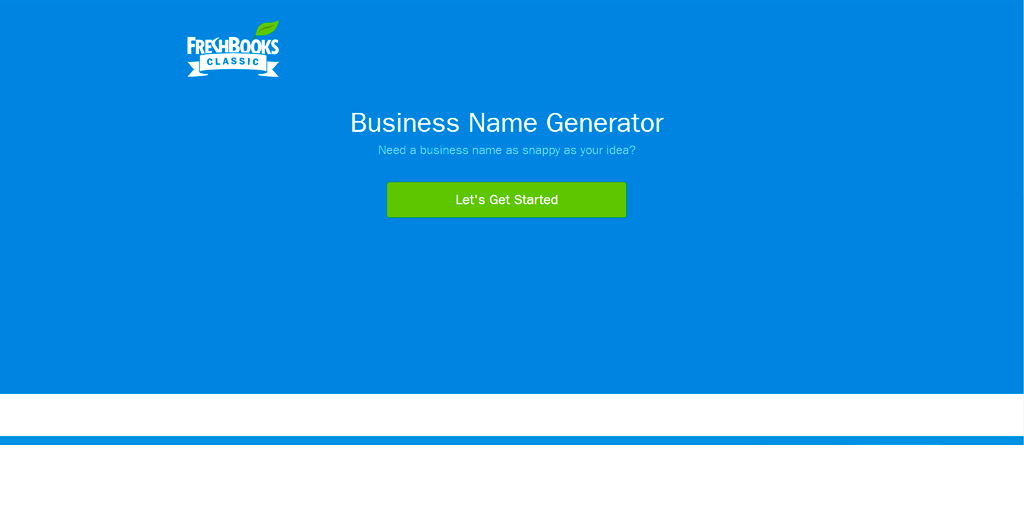 The company name generator at Freshbooks is quite interactive. Click "Let's get started!" to visit the page. You will then be prompted for your industry. These include creatives & marketing and legal services & consulting. Trade & home services are also available. After you have chosen your industry, you will be able to add keywords.
You can choose from three suggested brand names, or click "Show me more names" to see more. After you have selected a brand name that you like, it will be displayed on a new page in an attractive rectangle.
Hipster Business Name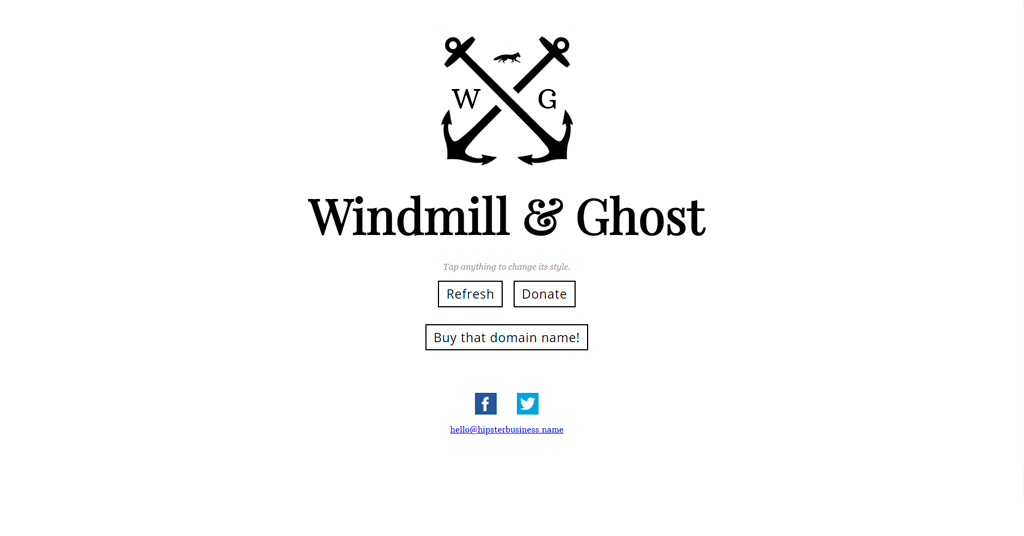 This is the most original brand name generator. Click through to see a selection of hipster business names. You can expand your brand to other verticals by not having your niche listed on the domain.
This generator has a lot of creative, catchy and fun brand names. It is the best generator for unique brand names. A t-shirt can be purchased with your logo and brand name printed on it.
Tips for Choosing a Company Name
These are some suggestions that may help you finalize the name of your company:
Avoid choosing a name too vague. A name that is too simple may not be as memorable.
Alternate spellings of common words are possible. You can use Flickr instead of flicker, for example.
Keep it simple. Do not go too far with your company name.
Copy any company names already in use.
You don't have to choose a specific business name. If you name your business after a product, customers may associate your brand with that product, which could limit your growth potential.
Before you finalize your business name, ensure that the domain name you want is available.
Ask for a second opinion from family and friends about your final decision.
Summarising
A name that reflects your identity and promotes it will help you build a brand that you are proud to call your own.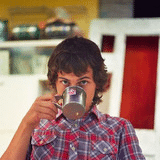 I'm a product and graphic designer with 10-years background. Writing about branding, logo creation and business.