We all know well about gold-rush in the middle of 19th century. A possibility of getting rich in a few years attracted people from the whole world. And then Levi Strauss, just another entrepreneur, came up with an interesting idea. He decided to sell gold diggers special clothes instead of mining gold himself. And his Levis Emblem was placed on the clothes too.
Create your own logo with Turbologo logo maker. It takes less than 5 minutes and no design skills needed.
Go to Logo Maker
A fabric had to be very special to face gold diggers' needs. It had to be very sturdy and durable. So, Mr. Levi bought the fabric in French city of Nimes, and colored it blue. And the fabric was named "Denim" as it actually means "from Nimes". The legend has it, that Levi sailed to San-Francisco on a totally loaded ship. And demand for his clothes turned out to be so high that Levi had to remove even sail of his ship to sew more clothes.
Levis Logo history – The oldest clothes brand in USA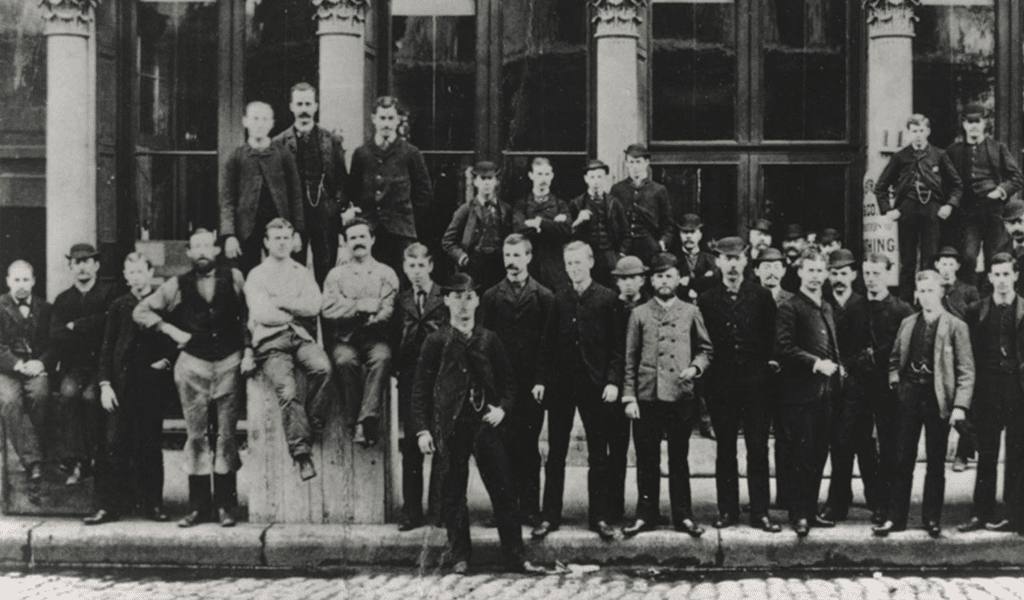 Levi Strauss and some other tailors patented buttoned, blue pants design in 1872. And this is considered the date of jeans invention. However, the word was made up only 70 years later. And the pants were called "overalls". It quickly became a legend in its own rights. In general, there are many legends related to the brand. For example, they had to "interlock" two passenger cars with jeans to reach destination.
The legend gist was depicted by Original Levis logo in 1886.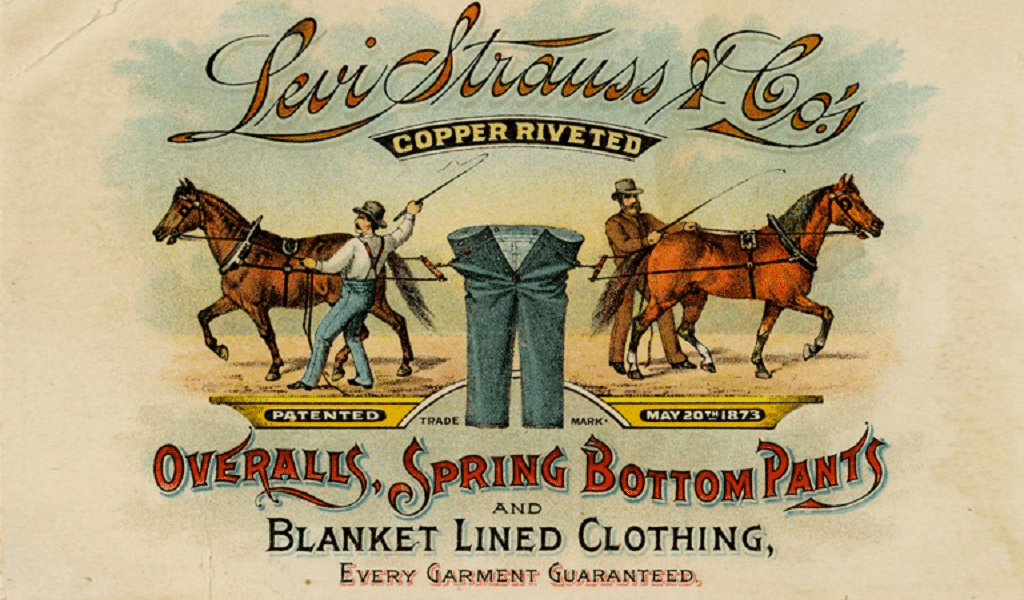 Levis Logo meaning
The original version of the emblem depicted two horses pulling and tearing the jeans apart. Of course the jeans remained in one piece. It was a very recognizable brand thanks to depiction with no lettering. The thing was that all the gold diggers were coming from different countries. Thus, there was no common language. And even less people were educated. And the old Levis logo had only a picture in it, so that everyone could get the gist. So, customers were asking for "pants with two horses" at the local stores.
Another opinion is that Levis emblem depicts how the slave owners used to take a strong black man and tied him to two horses, after that he was set on fire and it was let to horses to rip this man.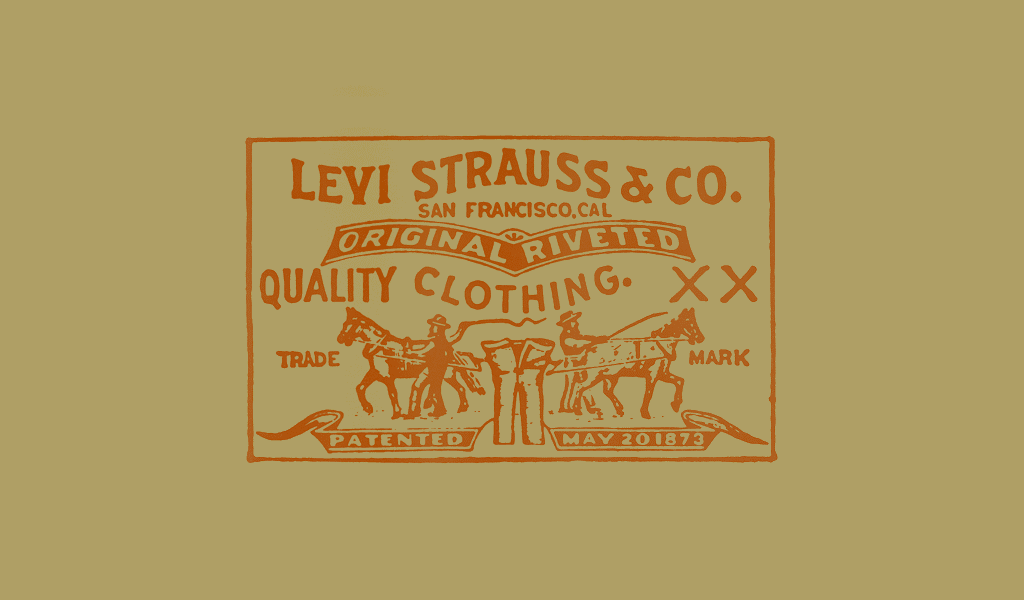 Levis logo evolution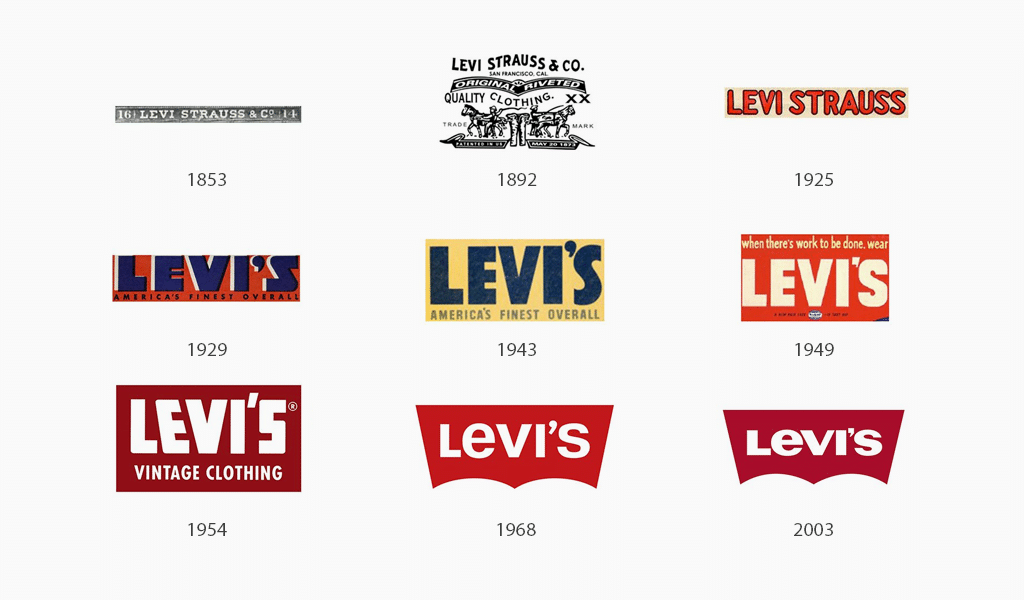 Want to make your own apparel logo? Explore clothing logo design ideas in our gallery.
The most popular jeans model was 501. It is unknown what does the name mean or what is the story behind it. The model had no belt holders as buckles were trendy back then. Jeans, like any other useful item, were being counterfeited. That's why they added a red label to back pocket. And they finally rebranded in 70s. Levis logo was completely altered and it took a shape of bat wing.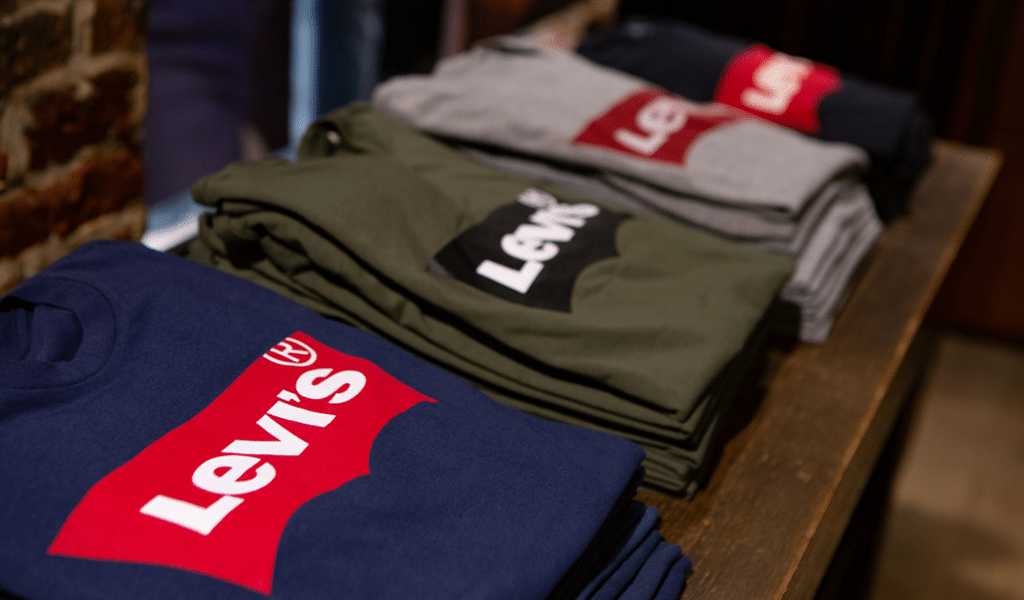 It was a deliberate choice really. The "bat" arch is actually a stitch on a back pocket. Brand name was written in capital letters in Levis logo. While "e" had to remain lowercase according branding rules. The move made the style unique indeed.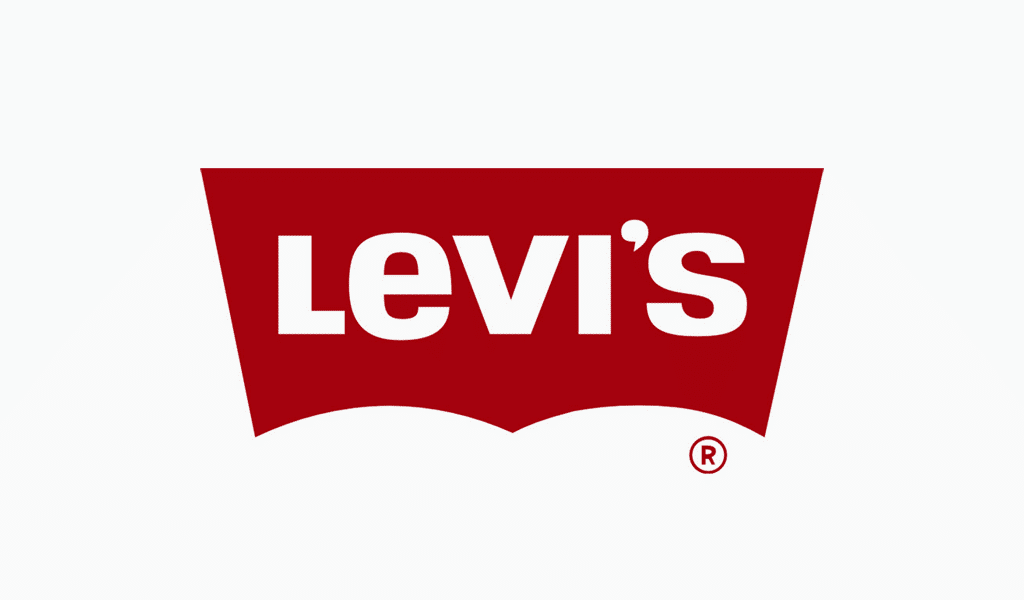 Levis Logo font
Levis logo font is original too. That implies you can't use it for your own commercial purposes. It is prohibited by copyrights. However, if you want some similar to Levis logo font, you might try URW Linear Wide Ultra Bold. This is the closest font we've discovered so far.

Blog editor and content marketing specialist at Turbologo. Writing about Marketing and design. Victoria's articles contain useful tips on how to build a brand and promote it online.