It is impossible to imagine a modern business without a logo maker, as it is a kind of business card of the company. In addition, the emblem helps business owners to create a recognizable brand, which further increases interest and demand for the company's goods/services. Therefore, a logo maker is an important component of any large business.
Create your own logo with Turbologo logo maker. It takes less than 5 minutes and no design skills needed.
Go to Logo Maker
However, creating such a distinctive mark can be an expensive and time-consuming process, because if you want to get the perfect professional logo maker, you will have to find a qualified designer. The services of such a specialist are expensive, the work takes weeks to complete, and the result that will delight you is not guaranteed. However, with the advent of online logo design services, it has become easier and more affordable for any business.
In this article, we take a look at the best services for creating company emblems in 2023.
Turbologo logo maker

Turbologo is an online service that makes it quick and easy to create a unique logo maker for your brand. It can be used to develop a professional corporate design that will emphasize the uniqueness and style of your company.
Turbologo offers a large selection of logo templates that (over 3 million variants) can become the basis of your future emblem. In it, you can also customize colors, fonts, and other elements so that your brand fully reflects the direction of your work and the main essence of the goods and/or services you sell. In addition, the online logo maker has many categories with emblems, for example, "Barbershop", "Coffee Shop", "Hotel", etc., which will help you get the most suitable brand name for your business. At the same time, each user gets Turbologo standard set of tools for creating and editing logos for free.
Pros

Turbologo logo creation tool is associated with speed, efficiency, and high-quality images. But these are not all the advantages of the service:
To create an emblem in the free logo creator Turbologo, you don't need to be a professional designer or have special skills; it is enough to choose a suitable template and customize it according to your needs.
It is possible to create a unique graphic design for free
Logo generator provides a variety of templates and tools that allow you to create a personalized brand name for free. This is especially convenient for small businesses and startups with a limited budget.
Quality of generated characters
Turbologo free logo creator generates icons in high resolution. You can download the images in two formats: PNG and SVG.
Custom logos from designers
In addition to providing users with a graphic icon generator, the professional logo maker itself offers the option to order an emblem from professional designers.
Cons
However, the Turbologo logo creator has some disadvantages as well.
The choice of templates and customization options is limited compared to other services.
Free logo options may be more popular and used by other companies, which reduces the uniqueness of the graphic emblem you receive.
Also, the Turbologo logo maker does not provide options for creating complex logos as its functionality is limited.
Cost

Turbologo logo maker has thousands of free logo templates and dozens of tools to edit them. So you can get an emblem within 2-3 minutes without spending a dime. But to access the full list of features, including creating unlimited design symbols, you must purchase one of the packages:
Lite – $9.99 per month;
Standard – $14.99 per month;
Business – $29.99 per month.
In the last two packages, you get significantly more free logo ideas, over 100+ tools, free support, improved brand identity quality, and more.
Wix logo maker

Wix is one of the online services of the popular Wix platform that has been running since 2006. It offers a simple and easy-to-use interface for creating logos using ready-made templates and tools. Moreover, here you can not choose a ready-made solution, but create your unique logo from scratch. The service has the necessary tools to customize color solutions in your future logo, allows you to choose fonts from 100+ options, and offers to add additional graphic elements to your personal logo. At the same time, Wix offers the opportunity to design your brand name for free.
Pros

You can choose a template from several thousand offers in a matter of minutes, pre-matching it to your business niche, and then get the finished result within 5-10 seconds.
If, after using the sartorial brand logo creator, you are not impressed with the result, you can change all the key elements of the emblem with the help of a set of additional functions. In addition, you can also generate a company name here.
Cons
Wix may be difficult to master for beginners.
Since the logo maker tool is paid, the free version of the site has limited functionality and a meager set of settings.
Cost

Wix Logo Maker provides a free logo creation tool. But to create high-resolution brand identities and get hundreds of editing tools for ready-made templates, you must purchase paid packages. They start at $11.90 per month.
Tailor Brands logo maker

Tailor Brands is an artificial intelligence logo design service that has been on the market since 2014. The platform allows you to create a professional emblem in minutes. All you need to do is answer a few questions about your business and preferences, after which the system will automatically create a corporate identity for you taking into account the specified parameters.
The logo maker also offers a wide range of templates that you can customize to your liking. At the same time, all designed emblems are unique, as the company partners with Noun Project, which offers thousands of licensed images.
Pros

One of the advantages of Tailor Brands is the speed of creating brand icons. But that's not all the advantages of the professional logo generator.
You can get a complete corporate package through the service: a unique logo, business cards, social media cover, and more.
The site has a wide range of templates and styles suitable for different industries and types of businesses. Therefore, you will be able to choose the logo that best reflects your company and its values.
Cons
The disadvantage in the process of creating a logo through Tailor Brands is the limited set of tools for editing the created emblem.
In addition, the program can create logos that are not unique and may resemble other brand identities.
Cost

To use all the editing tools and generate more personalized logos, you'll have to purchase one of Tailor Brands logo maker paid packages:
Basic: €2.99 per month if you pay a year in advance. B €9.99 per month if you only use the program for the allotted time.
Standard: €4.99 per month, or €5.99 per month if you pay for the entire year in advance.
Premium: €10.99 per month, or €12.99 per month if you pay for the entire year in advance.
If you subscribe for two years, you'll get an additional discount. For example, the "basic" rate for logo design is only €2.50 per month!
Looka logo maker

Looka is another popular online logo design service that has been around since 2016. It offers you a wide range of templates (more than 30 variants) and tools to create a unique corporate identity. The basis of the work of the service is artificial intelligence, which helps to create an emblem that perfectly suits your preferences and requests.
In addition, the platform does not offer ready-made templates, unlike standard online logo creators. Instead, the AI generates an image only based on the wishes you describe. Various color schemes, fonts, and graphic elements are available for you to customize your logo in Looka.
Pros

The advantages of Looka are a wide range of tools to customize your logo to your requirements.
The service can generate an infinite number of emblems in seconds.
You only have to pay for those created unique designs that you like and want to download.
Cons
The disadvantages of the logo generator include a limited selection of external design elements.
Also, the free version of Looka Logo Maker has limited functionality and offers low-resolution files.
Another disadvantage of the platform is the fact that corporate logos created with the help of artificial intelligence may not be unique and similar to other images.
Cost

Logo + brand identity for the website:
Brand Kit Subscription – costs $96 per year.
Brand Kit Web Subscription – costs $129 for 365 days of use.
Logo Creation Only:
Basic Package – $20 for one-time use.
Premium Package – $65 for one-time use.
Canva logo maker

Canva is a popular online tool for creating various graphic designs, including logos. The service was launched in 2013 and today provides a huge selection of templates, design elements, and tools to create a unique image. Here you can choose from a variety of color schemes, fonts, and graphic elements to create your unique logo. Canva also offers the ability to upload your images and use them when creating your emblem.
Pros

The advantage of Canva is the large selection of tools and templates, as well as the ability to edit your logo at any time.
The platform's pricing is affordable for businesses of all sizes.
The logo generator provides high-quality vector files that can be used for marketing materials and social platforms.
Cons
However, a disadvantage for beginners may be the complexity of working with the program. The logo generator can be less intuitive for novice designers.
Also, Canva's platform is limited compared to other tools. The service provides limited opportunities to edit the resulting emblems.
At the same time, the logos created with the help of artificial intelligence may be non-unique.
Cost

Canva offers different pricing plans, ranging from a free version with special features for logo creation to multi-functional paid packages. Paid plans range from $9 to $20 per month depending on the features and functions selected.
Adobe Express

Adobe Express is a versatile logo maker tool designed for effortless graphic design. It's accessible to everyone, regardless of design expertise, and comes as part of the Adobe Creative Cloud suite, renowned for its comprehensive graphic design software.
Key features:
User-friendly Interface: Adobe Express boasts an intuitive interface, perfect for beginners and experts alike. Explore various font styles and design elements to create professional graphics.
Template Library: Access a vast collection of templates for a quick start in your logo creation journey.
Personalization: Customize templates to match your vision, altering text, images, and color schemes for your own logo.
Integration: Seamlessly integrate Adobe Express with other Adobe Creative Cloud applications to enhance your design process and editing capabilities.
Mobile Accessibility: Craft logos online on the go with the mobile app, ensuring flexibility and convenience.
Functionality:
Template-based design: Utilize professionally designed templates, adapting them to meet your specific logo requirements.
Image Editing: Easily crop, resize, and enhance images, ensuring your logo has a transparent background when needed.
Export options: Effortlessly export logo images in various formats suitable for web, print, or social media.
Integration: Incorporate Adobe Express designs into other Adobe Creative Cloud applications for advanced editing, making it one of the best online logo makers.
Pros

User-friendly: The intuitive interface ensures graphic design is accessible to all.
Template Library: A vast selection of templates enables you to create a unique logo effortlessly.
Mobile Accessibility: Create logos online anywhere, anytime using the mobile app.
Integration: Seamlessly transition between Adobe Creative Cloud apps for more complex graphic design software projects.
Affordability: Competitive pricing starting at $14.99/month makes it accessible, particularly for those seeking a totally free option.
Cons
Limited advanced features: Ideal for basic to intermediate-level graphic design, but might lack advanced capabilities.
Subscription Cost: The monthly subscription model may not suit those looking for a one-time purchase option.
Cost

Adobe Express offers flexible pricing plans, starting at $9.99/month.
VistaPrint logo maker

VistaPrint is a leading modern service specializing in printing and design, catering to diverse branding needs. Let's explore its key features, advantages, and potential drawbacks, as well as pricing options.
Key features:
Custom Printing: VistaPrint offers a wide range of printing products, including business cards, brochures, banners, and more, all with unique designs.
Graphic Design Services: Access experienced graphic designers who can bring your creative ideas to life.
Template Store: Choose from an extensive library of templates suitable for various purposes, streamlining your design process.
Functionality:
Intuitive Design Tool: Create customized designs or modify templates with ease, ensuring your logo reflects your brand.
Printing Options: Select from different paper types, finishes, quantities, and special features like UV spot printing and foiling to enhance your graphic design.
Digital Marketing Integration: Seamlessly integrate printed materials with online marketing, including website design and email marketing, ensuring brand consistency.
Pros

Quality Assurance: Enjoy high-quality printing for professional and eye-catching materials.
Personalization: Tailor materials to your specific needs and preferences for your own logo.
Affordability: Competitive pricing starts at just $9.99, making it one of the best free logo options.
Global Reach: VistaPrint serves customers in over 120 countries.
Cons
Need for Additional Help: Complex designs may require professional assistance from a graphic designer.
Price Variability: Prices may vary based on customization options, but totally free options are available.
Cost

VistaPrint offers flexible pricing to accommodate different budgets, starting at $99 with options for customization.
How to Choose a Best Logo Maker

Creating a memorable and eye-catching logo is essential for establishing a strong brand identity in today's competitive market. A logo generator can be a valuable tool for both companies and individuals seeking a quick and cost-effective way to create a logo. Here are the steps to help you find the right service:
Determine the Corporate Identity: Before exploring logo generators, take the time to define your brand's values, mission, target audience, and the emotions your successful logo should evoke. A clear understanding of your brand will guide you in selecting the right elements for your logo.
Explore Logo Generator Options: Once you have a clear brand in mind, explore various logo creation services. Look for platforms and tools that align with your vision. Popular online logo makers to consider include Turbologo, Looka, Wix Logo Maker, and Tailor Brands. Familiarize yourself with multiple platforms to identify the one that offers the features and design flexibility you need.
Evaluate Customization Options: Assess the customization features provided by each logo generator. Consider factors such as font styles, color palette settings, and the availability of ready-made templates.
Choosing the right free logo maker is a critical step in crafting an attractive corporate identity that leaves a lasting impression.
AI-Based Logo Makers
The market offers several excellent AI-based free logo makers, leveraging artificial intelligence to simplify the logo creation process. Some of the top options include:
Turbologo logo maker;
Looka;
Wix Logo Maker;
Canva;
Tailor Brands logo maker;
LogoMakr;
Brandmark;
Designs.io;
Logomaster.io;
Logoai.
These AI-based logo makers provide convenience and efficiency in building a strong brand image through automated logo creation processes.
Conclusion
In conclusion, we would like to note that logo creation has ceased to be a time-consuming task thanks to various online services and programs. Nevertheless, it is important to choose a service that will best suit your needs and capabilities. This is the only way to create the perfect logo that will increase consumer interest in your products/services.
Remember that corporate identity should reflect your uniqueness and serve as a business card of your brand for a long time. Therefore, choosing the right service: Turbologo, Wix Logo Maker, Tailor Brands, Looka, or Canva is paramount when creating an attractive logo.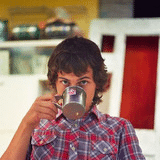 I'm a product and graphic designer with 10-years background. Writing about branding, logo creation and business.