Purple is the color of our mind's eye. Purple is the color of imagination, creativity, and of spirituality. It is the color of mysticism and dreams. Purple evokes such a wide range of emotions that it could be considered the most powerful color in the spectrum.
Create your own logo with Turbologo logo maker. It takes less than 5 minutes and no design skills needed.
Go to Logo Maker
Purple has been associated with nobility, wealth, and extravagance. The ancient Egyptians were so enamored with purple that they used it to dye cloth and even the walls of their temples.
Considered the color of the future by many designers and manufacturers, purple signifies change, art, and creativity.
As a business owner or someone who wants to start a business, you should be very interested in the importance of color. The colors are different. Using the right colors in sales and marketing materials (including logos) can help you sell products and services. The wrong color may discourage customers.
Color psychology of Purple logos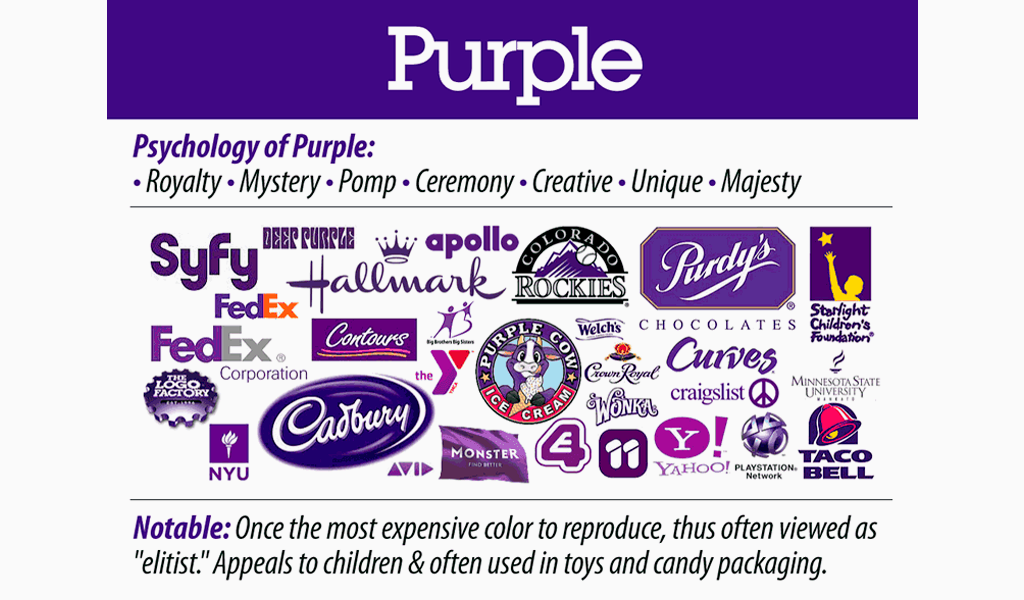 Women love purple so much that they are more likely to say "yes" to purple men who have asked them out on dates than men of any other color.
Believe it or not, the above-mentioned detergent company Ariel's survey of 2,000 people is consistent with a wide range of other data, indicating that women prefer purple than men. Men and women have different perceptions of various colors, but the perception of purple differs the most. This includes pink.

Purple is famous for its brilliance. Saturation (think Yahoo) and brightness, from purple to pink, are like the colors used for InDesign logos, making green and purple complementary, which is why they work well together. Honor, courage, royalty and leadership, faith and holiness are even used as signs of mourning in some places. Purple has also been a traditional royal color since ancient times.
Although using purple as the main brand color in independent graphic designs may not be the most popular choice, consumers recognize several major global brands, such as Yahoo, Cadbury, and Taco Bell, because of their unique purple logo designs.
Famous logos in purple

Purple is a popular choice for marketing, branding, design, and public relations agencies in the creative industry. Spiritual groups use purple in their brands because it is traditionally related to religion. However, big brands use purple for different reasons, mainly due to the universal meaning it portrays: mystery, royalty, sexy, power, luxury, Bold, even sentimental. Some brands only use purple as an accent color, while others use it as a brand identity color.
Yahoo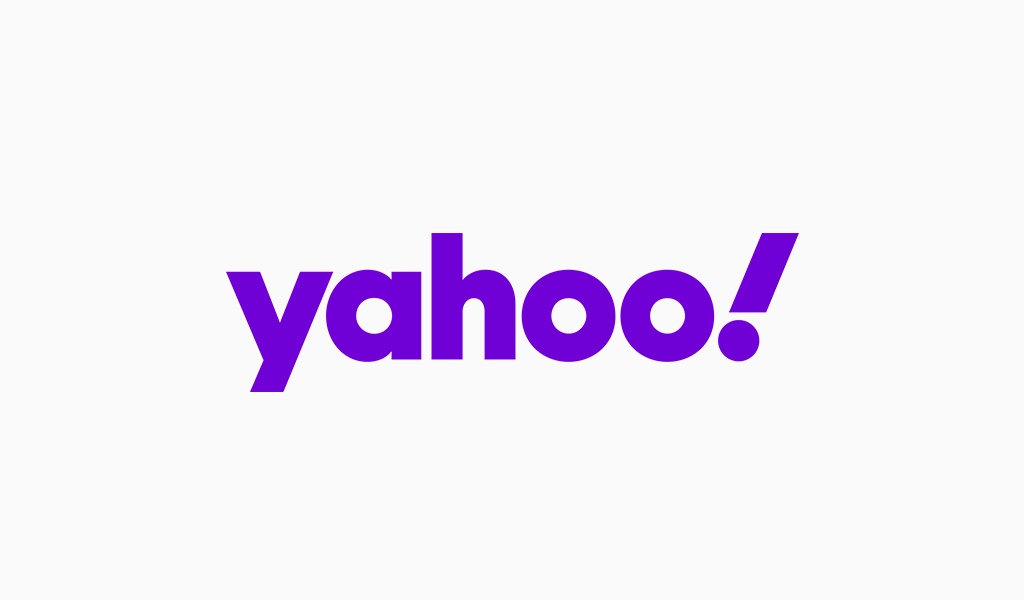 Yahoo! It is one of the most easily recognizable brands in the world by its violet color. As an Internet search engine giant, second only to Google and Yahoo! When using its online search engine, purple is used to evoke emotions of strength, boldness, and even a little bit of mystery to arouse enthusiastic responses. Last year, Yahoo introduced a new logo, but it still insists on purple as its preferred brand.
Milka

Milka is a European product of Kraft. The purple background gives the product a distinguished and trustworthy appearance.
Cadbury

Cadbury is known for its luxurious and almost sexy chocolate candies, so it makes sense that purple is the main color of its brand.
FedEx

FedEx is another global organization known for its purple brand. Their goal is to deliver packages safely and promptly all over the world. Purple adds a sense of luxury and sentimentality to your appearance.
Taco Bell

As a global fast-food restaurant specializing in Mexican cuisine, Taco Bell chose purple to evoke a feeling of nostalgia and even luxury, distinguishing it from other fast-food restaurants.
LA Lakers

The Los Angeles Lakers are a well-known professional basketball team in the United States. They are famous for their yellow and purple colors to show their confidence and fearlessness in the team.
See more basketball team logos
Wizz Air

Wizz Air is an airline headquartered in Hungary. In the flying business in Europe, purple helps travelers associate royalty and luxury with Wizz Air.
Purple logo inspiration
Here are some purple logo ideas to inspire.










Check out some of purple logos
Do I need to use purple color for my brand?
Purple logos are a relatively new trend that have been popping up in recent years. However, their popularity has started to increase and it looks like purple logos are here to stay. We hope this blog post has helped you learn about the different ways you can use purple colors in your logos and why it might be a good idea to use purple in your future branding.

If you want to create a purple logo, don't hesitate to start right now. Turbologo would love to help you with it!
Learn more about color in logo design
Browse these logo colors and get inspiration for each.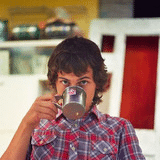 I'm a product and graphic designer with 10-years background. Writing about branding, logo creation and business.