Infographics are a great visual way to present information. They are always beautiful and I enjoy looking at them. However, I feel that I cannot ever make one.
Is it so?
Create your own logo with Turbologo logo maker. It takes less than 5 minutes and no design skills needed.
Go to Logo Maker
Many tools are emerging every day that enable us to create better and more engaging business images, including infographics that we can share with our marketing efforts.
Even people (like me!) can create one. People who thought it impossible to make one by themselves!
11 infographic creators
Below are the top 11 infographic creators on the internet. I have thoroughly researched them and selected the best.
1. Canva

Canva, an online design tool and infographic maker that is powerful and easy to use, allows you to create many designs without having any design experience.
Canva offers a wide range of templates that you can choose from depending on what design needs you to have. These include birthday cards for friends, lesson plans for classes, social media banners, ads graphics, and many other things. Infographics are also available.
Let's look at Canva's features as we create an infographic. There are many templates to choose from. Some templates come with elements such as icons or pictures you can buy, while others can be replaced with your own.
After you have chosen your template, you can also choose a blank canvas. Canva has many options for you to use. You can upload your own elements and add them to your image.
2. Adobe Spark

Adobe Spark can help you create infographics quickly for social media. There are over 10,000 templates available and many free assets that you can use to enhance your design. You can choose a free basic plan or you will need to subscribe to access all of the features and remove the Adobe Spark branding.
Spark is a drag-and-drop editor that allows you to create templates from scratch. You can search through the available templates and choose the one that interests you. Then, start editing. If you have a logo, you can change the background, add text and images, as well as insert an icon. After you are done, click the infographic maker to resize it for your favorite social media platform. Then download it (we recommend saving it in cloud storage). Watch your infographic go viral. Download Adobe Creative Cloud today to access the full suite of Adobe design apps.
3. Visme

Visme is multi-faceted design software that was designed with marketers in mind. You can create animations, mockups, and banners as well as infographics.
After you log in with your account, you'll be presented with a visual representation of all your projects. If you haven't yet created any projects, the space will be empty. To get started, click on the Create button.
Next, choose the type of project that you want to create. In this case, it is an infographic. Some templates can be used for free while others require premium accounts.
4. Adobe Illustrator

Adobe Illustrator may not be the first thing you think of when creating infographics. But it should. Illustrator does exactly what it says. Although creating infographics using this tool isn't easy, the results can be very rewarding.
Data visualization is the heart of any infographic, or at least it should. Adobe Illustrator, and its Charts Tool, make it easy to bring your designs to life (for designers with some experience).
Adobe Illustrator allows you to customize your infographics and create something really eye-catching. The Charts Tool allows you to create flowcharts or timeline infographics as well as bar charts. This will make it easy to share your data.
5. Colorcinch

Colorcinch is an all-in-one creative platform that allows you to craft stunning visuals- infographics on the fly. With its incredible collection of hand-picked vector graphics & icons, stickers, shapes, and stock images, you can create your personalized designs.
You just have to drag-and-drop the elements and craft your own graphics. You can add texts and make use of its text editor with various beautiful fonts. And get creative with the artistic overlays, masks, frames, and freehand drawing tools available. 
This refreshingly easy-to-use tool comes with a clean and intuitive interface that anybody can enjoy (even non-designers).
6. easel.ly

Easyl.ly makes it easy to create infographics. Once you have arrived at their homepage, you can choose from the many templates that they offer. You can also search their template collection by category.
After you've found the right template, or even if you create your own, you'll be taken to a new window that allows you to modify your infographic as you wish. easel.ly offers many tools, including backgrounds, shapes, and charts.
7. Venngage

Venngage is a top pick in our best infographic maker roundup. There are more than 7,500 templates to choose from. It is super easy to use and features an image search function that makes it easy to find and add images to infographics.
There are many features, such as font upload, the ability to export in Powerpoint, and interactive PDF. However, the majority of these features can only be found as part of a Business account. This is a significant difference from what you get with the Premium account. There is a decent free plan and the Premium subscription gives you all you need to create professional-looking infographics.
8. Snappa

Snappa is a highly-rated graphics tool that can help you create visually appealing infographics that grab the attention of your target audience. You can use it quickly and easily, as there are many pre-made templates. There is also a huge library of high-resolution images (over 4,000,000). You can remove background images with one click. There are many text effects and graphics you can add. The program allows you to share directly on social media. You can choose between a free plan that allows you to have one user, 6,000 templates, and three monthly downloads. There are also paid-for plans starting at $10 per month that offer more features.
9. Infogram

Infogram is an infographic design tool that's perfect for people who love data and numbers. Infogram's data visualization skills allow you to create infographics using complex data sets. However, the templates are somewhat limited from an artistic standpoint. You'll be limited if you are a free user.
After you've selected the template, it is possible to edit the elements of the page. When dealing with statistics, Infogram is a great option. This is the best tool to use if you need to assign numbers and graphs to maps or graphs.
10. Crello

Crello is an online graphic design tool that is very popular. You can create almost any type of design including infographics.
Crello makes it easy to create visually appealing infographics using a variety of templates, fonts animations, and objects. You can also upload your own images.
It's easy to create an infographic using Crello. Simply choose your format and pick a template. Then customize your design. Share it with the rest of the world once you are done.
11. Animaker

Animaker is primarily an animated video-development tool. However, it also allows users to create animated infographics. Animaker has a library of animated characters, scenes, and icons that users can use to create animated infographics step-by-step.
Animaker provides a range of animated templates that can be used as the foundation for your infographic, just like other tools. Here are some examples of their appearance.
Each template is basically a video. Then, you can drop the video into the graphic editor to make it your own.
How to Create an Infographic

There are two major options:
Do it yourself
It's best to hire someone to do it
We recommend Canva, or Adobe Spark if you are a complete beginner. If you are a skilled illustrator, Adobe Illustrator may be the best option.
Twine is a great place to start your search for infographic designers. Twine has a large collection of freelance infographic designers available. They come in many styles and price options, so there is a designer to suit every budget.
More to you
It is amazing how simple it is to create infographics these days. These tools can be used to help you create your own infographics. You are welcome!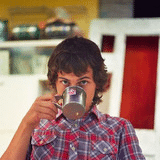 I'm a product and graphic designer with 10-years background. Writing about branding, logo creation and business.