Employers are increasingly relying upon remote workers to provide knowledge and skills as the world becomes more connected via the internet. Employers are looking for qualified candidates in many fields to work from home or in the field.
Create your own logo with Turbologo logo maker. It takes less than 5 minutes and no design skills needed.
Go to Logo Maker
Remote workers can choose from a wide range of exciting careers. This article will discuss remote work and top remote jobs, as well as job duties and average salaries.
Remote Jobs With High Pay
Designer

Designers are a sought-after job in the tech sector. Remote graphic design jobs can be done remotely, including Shopify theme design, UX, and UI design roles.
Designers require a lot of knowledge. However, just like developers, many of these skills can be learned with the help of free tools. A well-designed website is a key component of modern business. This means that designers will always be needed by companies, making it an attractive career option. Remote jobs are a great reason to consider working as a designer.
Digital marketer

To attract clients, digital marketers use email, social media and web content. Digital marketers often manage the entire client's web presence including their website, search engine rankings and blog, as well as their advertising strategy. They can work remotely, as long as they have access to the internet. Digital marketers develop scalable skills that can be applied to both small and large businesses. This profession is highly attractive for ambitious and creative people.
Translator

The demand for translators is increasing due to the increased use of the internet, which connects us all. Businesses are eager to bridge this communication gap. Translators can perform many different tasks, including working on websites or translating documents.
This remote job requires that you have excellent language skills in at minimum two languages. You will have more options if you can speak multiple languages. If you are at least bilingual, you may be able to work in translation remotes.
Journalist/Writer

It's not as simple as it used to be to work as a journalist online. This is due in part to the closing of many newspapers. It is still a popular job from home.
Journalism requires exceptional research skills as well as strong writing ability. Remote jobs require you to be an excellent journalist. If you are not yet at this stage, you can also write content for other online sites. This will help you improve your writing skills and allow you to build a portfolio.
Tutor

Students of all ages can be taught by remote tutors in any subject. This includes English as a second or third language and biochemistry. They use teaching software and video chat apps to communicate with students around the globe in either one-on-one or small group settings. Some tutors design their own lesson plans while others use a particular program to teach. Remote tutoring is a great job for those who love teaching and need flexible hours.
Sales consultant

Sales consultants evaluate a company's sales methods and offer suggestions for improvement. This could include creating sales training programs or finding new customers. Remote sales consultants are often hired by companies, particularly if they specialize in a particular market.
Specialist in HR Onboarding

Onboarding specialists, remote jobs are available to those with experience in recruitment and HR. This job involves recruiting, screening and referring candidates, as well as leading new recruits. Onboarding support is essential for both large and small businesses to ensure that new hires are successful. To stand out, create employee handbooks to show potential employers your ability to effectively onboard new employees.
Project manager

To coordinate tasks and processes, project managers can work in any industry. Web conferences and scheduling technology are common tools they use to delegate tasks, coach employees and document progress. They are highly responsible and independent with many growth opportunities.
Software engineer

Software engineers create software that is compatible with various client requirements. Software engineering is a popular remote job that pays well. To increase their income, they can further specialize in computer science to solve problems.
Social Media Manager

If you're searching for remote marketing jobs that will allow you to utilize all your social media skills (a.k.a endless scrolling on Twitter, Facebook, or Instagram), then you should look into social media manager roles.
A social media manager position can easily be done from home as you communicate with your team via chat or email and schedule your posts using online tools. Having an excellent grasp of the different social media platforms and what content does or doesn't work is a must. These skills can be learned over time. You can start by helping a small business and then go on to work for larger companies.
English Teacher

While teaching English abroad is a common job for travelers, you might not realize that it also ranks among the top remote jobs. With the help of a stable internet connection and a headset, you can easily start online teaching and help students with their language skills.
English teachers are in high demand. However, there is also a need to teach other languages. You will need excellent communication skills and the ability to organize lesson plans.
Medical writer

To create medical materials that are relevant to a variety of audiences, medical writers must have a good understanding of clinical research methods. For those with the necessary specialized knowledge, medical writing can be a lucrative remote job. Strong communication and writing skills are essential for a career in medical writing.
Application developer

App developers program, test, and maintain apps for web browsers, mobile devices, and computers. Many app developers work in small groups or independently, which allows them to work remotely in many different situations. App development, a rapidly-growing remote career, can offer additional benefits such as stock options and profit shares, particularly in startup environments.
Transcriber

Transcriber is a part-time remote job that requires exceptional attention to detail and listening skills. Transcribers convert audio files to written text. This service is used by many professionals, including podcasters and medical personnel.
You must be able to simultaneously listen and type when you are doing transcription work. It sounds simple, but transcription is not the easiest work-at-home job. There is an abundance of demand. Transcribers will be in high demand over the next few decades, making them one of the most stable remote part-time jobs.
Online marketer

Would you be able to sell ice to polar bears? You might be a good candidate for an online marketing role. Online Marketing is a catch-all term for many different skills that come under the marketing umbrella. You can work in search engine optimization (SEO), SEO marketing (SEM), affiliate market, content marketing or email marketing.
Remote marketing jobs are becoming more common, particularly since they require little to no special equipment. There are many areas of marketing. This means that you can develop your skills and then look for remote jobs.
Employers that hire for work-from-anywhere jobs frequently include companies like General Electric
FlexJobs
FlexJobs offers remote jobs, work-at-home gigs and other flexible work.
Chainlink Labs
Chainlink Labs has a mission: to make contracts smarter and more reliable. The company connects the smart contracts of customers to real-world events, payments, and data. Chainlink Labs provides reliable, tamper-proof inputs as well as outputs to ensure that contracts work on any blockchain.
Study.com
Study.com was founded in 2002 and offers tuition-free college. Study.com offers courses for GED credit and certificates of completion that can be transferred to other universities.
Protocol Labs
Protocol Labs develops software systems and tools that address technical problems and solve them using open-source design. This optimizes user experience. Its distributed information systems are designed to identify inefficiencies in the storage, movement, and location of information.
OpenClassrooms
OpenClassrooms, an online education platform that has 3 million users in over 100 countries, is called OpenClassrooms. OpenClassrooms is a partnership with over 30 academic institutions and 40 corporate and institution companies. It offers more than 1,000 courses to help students achieve their academic goals.
VIP Kids
This site is for English teachers only. This site allows employees to set their own schedules and gives them a lot more flexibility.
We Work Remotely
This job is great for remote design and development jobs. But you can also find other types of work.
RemoteOK
There is a huge job board that lists vacancies for people with a wide range of skills. You will also find interesting statistics on their top-ranked jobs and remote companies.
Scribie
Scribie is one of the many transcription companies and is constantly looking for freelancers.
Wikimedia Foundation
Wikimedia Foundation is a non-profit organization that supports some of the largest free knowledge projects in the world, such as Wikipedia, Wikisource and Wikiquote.
Automattic
Automattic is the company behind WordPress. It also owns many other products like CloudUp, VaultPress and JetPack.
RemoteOK
There is a huge job board that lists vacancies for people with a wide range of skills. You will also find interesting statistics on their top-ranked jobs and remote companies.
Arc
Arc is a great place to find developers and teams. Arc is a great place to find part-time work, permanent or limited contract work.
Deel
Deel is a specialist in remote payroll systems. The company's product allows companies to connect to localized payments and comply in one platform.
Upwork
Upwork is primarily a platform for freelance work. This can also be a great place to establish ongoing relationships with clients which leads to more consistent work.
Here are Some Quick Tips for Remote Jobs

There are some things to remember when you trade a cubicle for your home office, whether you are looking at remote work or have one. These five tips will make remote work more enjoyable.
1. Make a routine
A daily routine will help you get out of the home and into work mode. You can make your routine as simple as setting hard start and end times, or more complex. For example, you could incorporate a morning routine that includes a "commute" around the block for some fresh air and mental preparation before you start your day.
2. You should work regular hours
This was mentioned above. However, sticking to regular work hours can help you mentally get into the right mental space for work. This is possible for remote jobs. You may work a regular 8-hour day. For jobs that require more flexibility, you should at least set aside blocks of work time. Don't fall into the trap of consistently working late – a work/life balance is important.
3. Make a schedule for breaks
Yes, you need to take breaks from all the work. It's hard to do your best work when you're feeling burnt out, so taking your full scheduled breaks is incredibly important for productivity. A cup of coffee can be enough to refresh your brain and get you ready to go for the day.
4. A dedicated work area
Although working from your couch may seem idyllic, there is something to be said about being able to leave your office at the end. A dedicated workspace is a great way to keep work and pleasure separate if you are considering working remotely. You can make your couch time more enjoyable by creating a space that is exclusively for work. This could include a desk, a chair and supplies. Plus, it's one of the keys to working at home with kids around. You can hop into your work area when the babysitter arrives or when it's your spouse's turn to spend time with the children.
5. Fresh Air
It can be very easy to forget that you were outside when you are working remotely. It's not easy, but it is possible. It will benefit your mind to get some fresh air and a change of scenery. And if it's sunny, you'll also get to soak up all that beautiful vitamin D from its rays.
6. Ask about Retreats
Remote-friendly companies often organize team meetings in exotic locations (think Bali, Barbados and Maldives). These are a great way not only to get paid but also to meet co-workers. These company-sponsored holidays offer remote workers a chance to travel and make new friends with colleagues. Imagine how thrilling it would be to actually meet someone you have talked to on Slack. A retreat can be empowering, fun, and refreshing.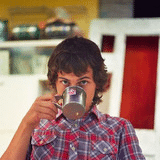 I'm a product and graphic designer with 10-years background. Writing about branding, logo creation and business.