Many famous people explain their achievements by just having fun. And it's actually the truth. What they fail to mention is that any achievement takes huge effort, lots of money and labor.
Create your own logo with Turbologo logo maker. It takes less than 5 minutes and no design skills needed.
Go to Logo Maker
All of the above holds true for René Lacoste. He enjoyed playing tennis. But his parents gave him no credit in that field. Moreover, Rene was too far from being fit for sports and too old either. Rene's parents also made him prove his ambitions. It was either you become best of the best or quit that sport for good. What do you think was his choice? Let's find out!
Lacoste logo History
Fortunately, Rene didn't give up after his first defeats. He was training hard and became a world number one at the age of 22! Now that's a dedication! The thing is that Rene was crazy about tennis and everything related to it. And he was dreaming to improve it too. Tennis uniform used to be extremely uncomfortable in 20s. A woolen sweaters used to restrain movements to great extent. Rene Lacoste decided to use something more suitable. It was he who introduced polo shirts, which would be endowed with Lacoste logo in a few years.

Lacoste logo meaning
However, there were some players who refused the new uniform. The thing is that it was simply bizarre those days. But most people appreciated all the advantages of the new clothes, invented by Lacoste. And what has a crocodile to do with Lacoste? Why is it in his logo? It is there due to Rene's nickname. He had never had enough skills in tennis, so he used to achieve victories through power and energy. Thanks to his aggressive playing manner, Rene's friends started to call him a crocodile. That's why he endowed his shirts with the crocodile depiction. And this is where Lacoste logo history originates from.
Lacoste logo evolution – New development vector
When Rene's grew tired of his career, he concentrated on what he loved about tennis most. He initiated manufacturing of casual tennis clothing. Rene was among the first ones who have placed their logo in the most noticeable place. All the must have been printed on tallies in order to be well hidden.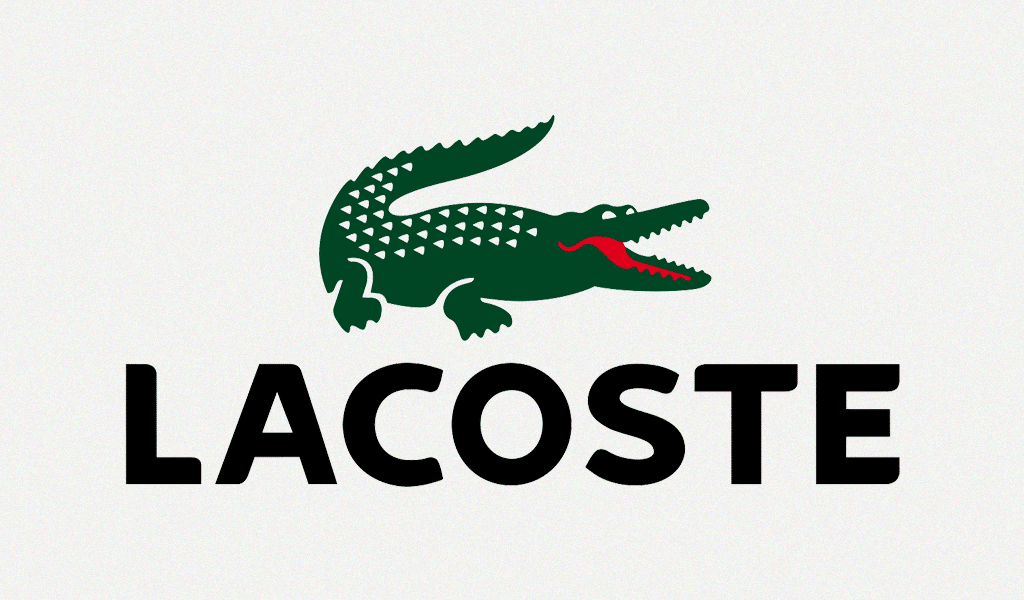 The company kept producing high quality clothing throughout years. Has the logo changed? Well, once designed, the logo hasn't been changed much. The crocodile, drawn by one of Rene's friends, has been being used from 1933 to 1984. And it has been transformed into something we all know and love afterwards. The new Lacoste logo has adopted but a few minor changes since then.
Company's production is dressed by unique and trim font. Its quality is actually the reason why it hasn't been altered or redesigned. Lacoste logo font isn't just another lettering or an ordinary inscription. It's called Lacoste Sans and the company has reserved all the rights.

Blog editor and content marketing specialist at Turbologo. Writing about Marketing and design. Victoria's articles contain useful tips on how to build a brand and promote it online.