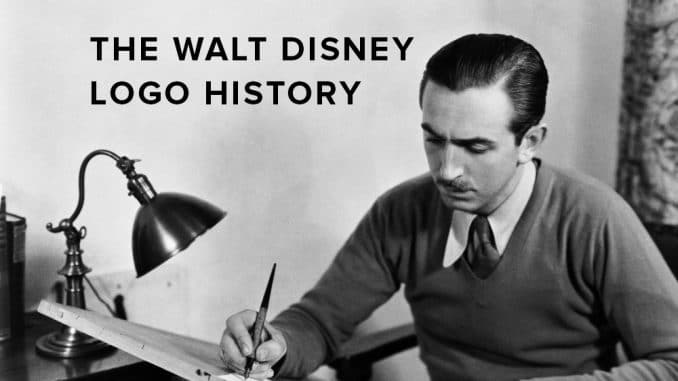 Walt Disney, as we know, isn't only a talented guy with a remarkable smile, but also a founder of a megacorporation we all know since childhood. His contribution to modern world pop-culture cannot be underestimated, and even today the company makes trend vectors and fashion tendencies. But what did Walt Disney pictures logo history begin with?
Turbologo Logo Maker
Create your own logo with Turbologo logo maker. It takes less than 5 minutes and no design skills needed.

Mickey the mouse
In order to know it, we need to remember that Walt Disney himself, wasn't alien to art and had extraordinary view of life. Walt, back in his younger years, worked in advert agency as a designer. However he quickly became fed up with it and, as one of his peers, Walt rushed into Hollywood. He failed as an actor, but he didn't give up and started to draw his first short-length cartoons.
At that time the very first Walt Disney logo was created. Initially, Walt drew Mickey-Mouse profile and it was an original and unique design. The logo rotated and changed color on screen. Mickey-Mouse transformed from touching mouse into most famous brand, thus it became the first cartoon character, who exceeded the bounds of screen, becoming applied to various wares for kids and adults.

Walt's castle
Nowadays, only a true fans remember this Walt Disney logo, because we all know better another variation: a magnificent, fairy castle, a scattering of shining gems and short but mind catching melody. It has just flashed through your mind, really! By the way, logo isn't always just a bright and attractive picture. Movement, such as the scattering of fairy, shimmering sparks – is a part of logo too. And a melody as well, that's something many people tend to forget about.

But there is another important detail of Walt Disney company logo. It is author's signature, and regardless of frequent changes in Disney's name variations, his initials remained the same. Sometimes Walt added Mickey-Mouse to his signature, artistically approaching the matter. It is hard to believe in 21 century, that snow-white castle didn't always beautify Disney's cartoons. It is multiplicator's signature possesses the longest-lasting trace in Walt Disney logo history. In old cartoons we might notice the lack of unified Walt Disney company logo. In the beginning of each cartoon there is a signature, a new variation for each one.
Magnificent logo of Walt Disney company
Maybe the creators wanted to specify thusly, that behind the huge company there is one talented person. And each new work appears thanks to him. And it was a well-taken step, as people trusted everything that was released under the brand and they still do. It is worth mentioning, that as a result the author's signature crowns not only every cartoon, but also TV shows, various wares and, finally, huge amusement parks – Disneylands, a place which every child dreams of visiting. This is all the same brand, of course, and nowadays all the production of Disney is well known.

But how did this magnificent logo of Walt Disney company appear? We all know that prototype was a majestic Bavarian Neuschwanstein castle. Multiplicators thought that Sleeping Beauty used to live in a castle like this, so what could be better for fairy cartoon world? Though the cartoons themselves were bright and colorful, the initial logo differed from them by being less colorful, that's something that showed a good taste of Walt Disney logo designer back then. It was considered to be an advanced logo during those years. Logo lines are accurate and refined, and Tinker Bell fairy, scattering fairy dust, reminds of magic. However, animation was added relatively late, in 1985. Since then, the logo was appearing in every cartoon and the logo has suffered but minor changes.
Contemporary designing and cross branding    
And what of now? The castle has remained in place, but it has become far more colorful, with more details. Though, now it Cinderella's castle, who came escapes from daily routine and ends up on ball. And animators offer the same thing to audience. Colors are perfectly matched, and latest technological advances allow to feature in the logo a new level of detailization. This is a good example of how a logo can show audience that something extremely interesting is waiting for them. The logo also depicts art reputation of the company. Just a few frames are enough to understand the core of brand's production, its brightness and colorfulness, happiness and a fair amount of music in it. Even if you don't like cartoons at all, it is still hard to deny that the logo is accomplished on a very high, professional level.

This is perhaps one of the most famous logos in the world, especially today, when the company owns many lesser art studios. Certainly, the company's logo is a part of our modern culture. Disney's logo is often parodied, let's remember a vast array of drawings, depicting Mickey-Mouse wearing Darth Vader helmet, when the company purchased Star Wars. Like it or not, but the story of Disney corporation is the worth learning from. Nobody knows what the future holds, but Disney's logo is part of our history and will remain a symbol of captivating stories and animation magic for a long time.