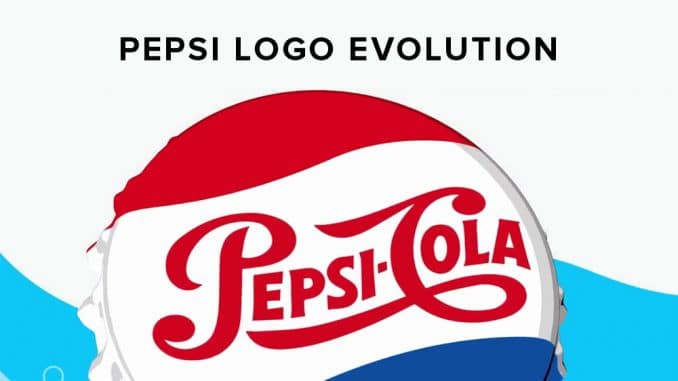 Pepsi-Cola is one of contemporary world symbols which doesn't need introduction. All of us what does the blue-red yin yang mean. In contrast to its red-white market rival, whose logo didn't change over years, Pepsi is always looking for fresh ideas. And so, we'll tell you about Pepsi logo evolution in this article, and provide you with a couple of little known facts, which you haven't heard of before!
Create a Logo with Turbologo Logo Generator
Just push «Make a logo» button and follow instructions. It takes a few minutes!

Sources of popular beverage and label

It is little known that initially Pepsi was called Brad's drink. Everything has changed when it was named Pepsi-Cola in august 1898. It is still unknown, how did the name appear. Some say that it has something to do with pepsin ferment, as Pepsi was sold in drugstores and it was considered to be a digestion medicine. Pepsi is said to be harmful sweet drink today, but it actually was something opposite. What a twist! Some say, however, that the name can be heard when you pour Pepsi in a glass and you hear beads pepping. The second version sounds more reliable, doesn't it?



The old Pepsi logo looked really dull. It was but an inaccurate, messy lettering, full of useless details, which also was hard to read. And the cheap inscription looked like any other. Small wonder that this option was removed. Pepsi has entered a new millennium with still irrelevant detailed, but more accurate and legible logo. It didn't significantly change until World War II, when the letters started to follow square pattern and detailization simplified even more. A true success of marketologists has been Pepsi jingle (Nickel, Nickel). Its popularity made Life magazine include it in its list of timeless tunes.
Pepsi logo development history

Years passed and the world changed and in order to stay on the verge of success, the company had to redesign. 60s became a true turning point for Pepsi. Firstly, the logo was fitted in round, pointed bottle cap. Secondly, a famous, blue-red yin yang has appeared. Thirdly, the word "Cola" was removed from the name. Pepsi will never use it again.



70s design was even more minimalistic. In many cases logo simplification as a right move, this case included. The pointed cap has disappeared, leaving Pepsi logo extremely simple and clear. It seems that it's the best Pepsi logo ever, as flat-design trend is popular in modern world. The sign is unique, original and fresh, even nowadays it looks good. Consequently, this variation is being used today. There is, however, a special line of Pepsi in glass bottles with vintage Pepsi logo. The design is aimed at a particular target group. And this fact tells of Pepsi being ready to face the needs of every single customer.


With minor changes logo existed for a long time. But in 90s, volumetric images became popular, and new Pepsi logo was affected as well. The sign became round, background turned blue and font switched to white color.


Current Pepsi logo

While the major Pepsi rival keeps its logo, Pepsi is looking for something new. Current Pepsi logo shows that sometimes it's better to stop. A search of a best can cause a loss of a good. 70s logo was beautiful and trendy. Should the company keep it, it would go down into history. Nevertheless, they decided to follow different path. A well-balanced contrast of blue and red was altered to become more stylish and up-to-date. And they totally failed. The balance was lost, a white stripe in center contorted, and many customers were asking why. It seemed that the new logo offended them somehow.

How exactly? Well, many implied that the white line resembles a fat belly that can be seen in an opening between a red t-shirt and a blue jeans. Really offending, isn't it? Moreover, it is well-known that sweet carbonated drinks are a shortcut to obesity. So, why reminding this to customers? Not all of them thought that way of course, but with help of the internet logo became part of countless memes. Even those how haven't notice that variation before began to laugh at it. The lesson to learn here is that one must scrutinize a new label before issuing it. If a lame rebranding was spotted on the Internet – you won't be able to remove it!