It's hard to find someone who hasn't heard about Super Bowl and National Football League. And its story begins no less than 100 years ago in 20s. It was then when American Professional Football Conference was founded in Ohio. And how many commands do you think were there? A total of 4! By the way, Chicago Bears and Arizona Cardinals exist even today, though they have changed their names and territories were altered. The Football League developed its current name quite fast in 1922. And if someone was away during 20th century, NFL formed an association with American Football League. And since then the League has become very close to what it is now.
Create your own logo with Turbologo logo maker. It takes less than 5 minutes and no design skills needed.
Go to Logo Maker
West, East, North and South are the four divisions which can boast 32 super popular football teams. Millions of fans around the world know their images, symbols and uniform colors. The brand is placed on millions of t-shirts, baseball hats and other goods. So, today we'll tell you about National Football League logo. And more precisely – about its meaning and creation.

History of NFL logo
If we look back into Canton in 1920, we'll see that there was no united League logo. Those were different times of course and the League was only about to reach its popularity. The first president of the League was a brilliant player Jim Thorpe from "Canton Bulldogs". The number of teams has reached 22. However, the quantity of participants was swaying. In general, football wasn't major national sport until 30s. And baseball had far more fans back then as well.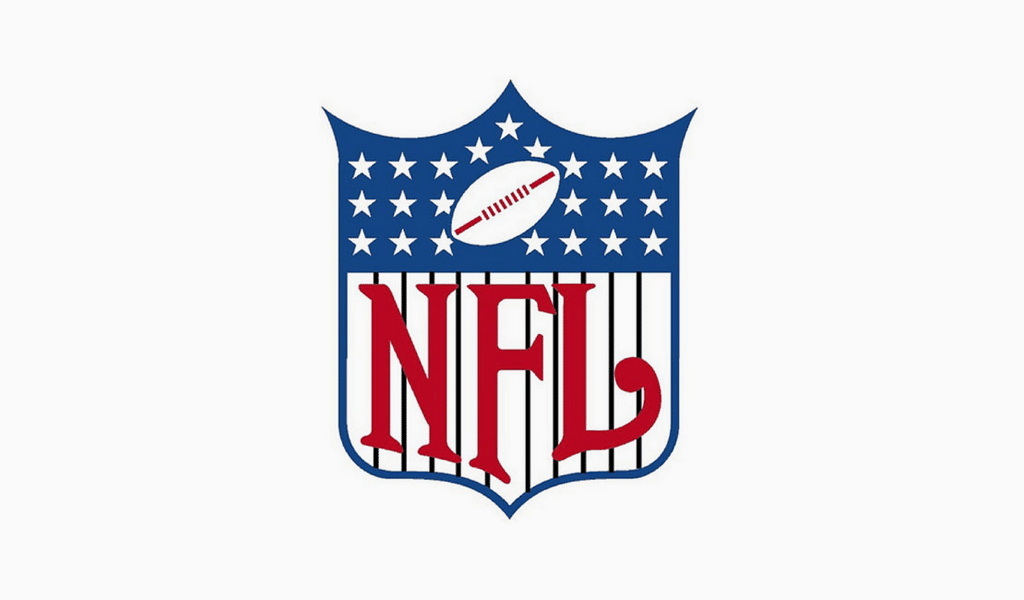 Maybe it's just the reason why the first NFL logo was created in 1921. It wasn't too different from what we can see today. Design was rather traditional. There was a white field with deformed, red letters saying "NFL" on a blue shield. 25 stars shone above the letters. And on starry background there was a ball. Everything was clear and fine.
Meaning of NFL logo
The logo is patriotic of course as it's the logo of most popular sport event in USA. The colors of the logo are that of USA flag, these colors symbolize pride and power. And it's not a coincidence that the stars were used too.
And what is the meaning of National Football League symbolism? All the meanings are crystal clear as a football ball can have but one meaning. Stars meant an amount of teams. Shield symbolized pride. And it's implied that one should be proud of the sport. Shield meant power, and it wasn't just any shield. It was an American shield. All these describe feelings of both football players and fans.
NFL logo font
The letters in NFL logo use the next proprietary font – The NFL Endzone Slab.
Evolution of NFL logo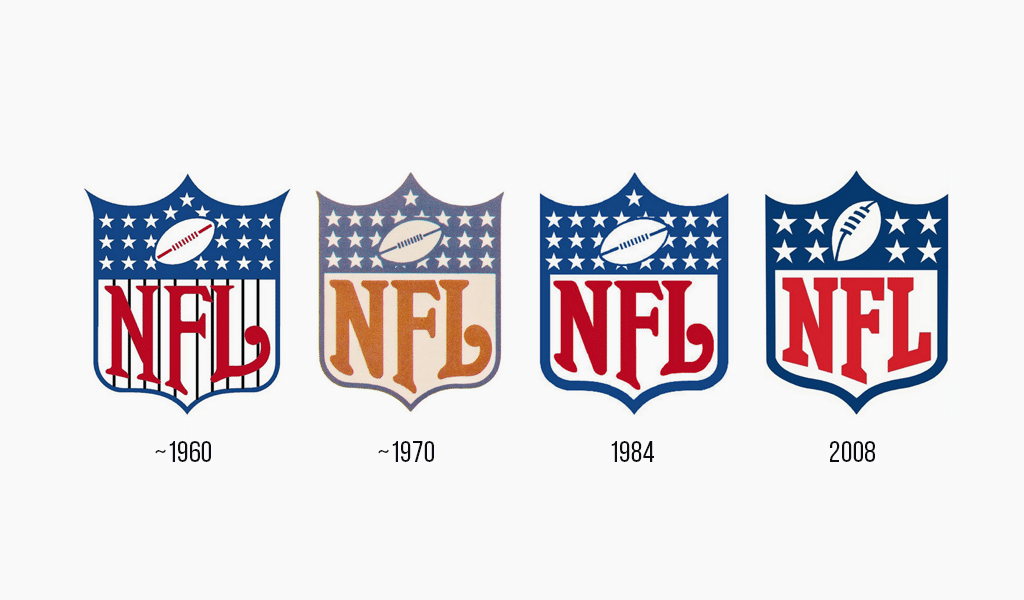 As we might already have noticed the main symbol hasn't hanged throughout the years. There are some however. We can see some pale red stripes in 1940 logo. The stripes referred to a flag, and all the logo was resembling is a flag. The ball was of pale red color too. After that, the ball turned realistic brown up until 1953. Bright red stripes merge with crimson NFL letters in that logo variation. It wasn't the best option possible, so it stayed only for 5 years. The stripes were altered to thin ones in 1959, but three years later they were completely removed.
And finally, a logo very much like current one was designed in 1962. And the number of stars has changed though. Previously they represented an amount of teams, and nowadays the eight stars stand for eight divisions. It is this variation of NFL logo that is well known throughout the world. You can download the logo for free nowadays. Many fans prefer buying souvenirs with that logo. Cups with the logo will come in handy not only for Super Bowl championship translation, but to feel pride for your Country!

Blog editor and content marketing specialist at Turbologo. Writing about Marketing and design. Victoria's articles contain useful tips on how to build a brand and promote it online.