Whether a corporate or individual brand, the importance of a logo to any business cannot be overemphasized. Perhaps, you have just started a brand, or you just realized the need for a logotype for your existing brand, this piece is for you.
Create your own logo with Turbologo logo maker. It takes less than 5 minutes and no design skills needed.
Go to Logo Maker
Here, we will be discussing extensively the six proven methods of creating a high-quality logo that will not only complement your products and website that may be created by using a DIY website builder. The logo will also appeal to your clients while representing your business' core values.
How you can make a logo:
Drawing it yourself
Consulting a designer to create one for you
Consulting a design studio
Using the tender
Using the online creator/editor
Using a logo generator – Turbologo.com
Now, let us do an in-depth review of each method, with emphasis on the pros and cons.
Drawing it Yourself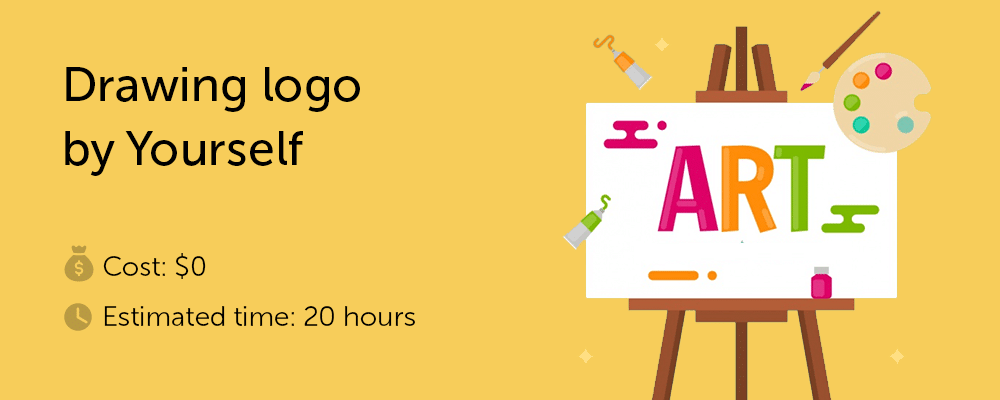 When you choose to work with this option, you become the direct creator and author of your logo, i.e., all creative design credits go to you. The main benefits of this option are that you have full control over the entire process, and you do not have to pay a dime. However, you must have strong drawing skills and must be capable of using one or two graphics software.
A self-drawn logo should take you about 10 to 20 hours, although the end product may always be a funny reference by clients, colleagues, and friends.
Consulting A Designer To Create one For You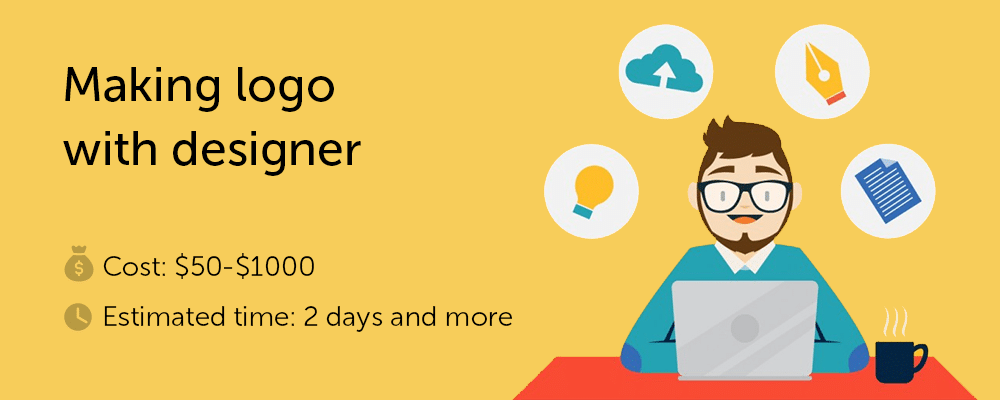 One of the prerequisites for this method is an already-prepared logo concept, i.e., a preconceived idea of what you want your logo to entail. Then you look for a designer to transform these concepts into reality. Websites like Elance, Odesk, and Behance offer several designers who take up such projects. Once you have a suitable designer, set the deadline and, as the project owner, you need to be in charge always, while ensuring that the design process goes as planned.
Some of the advantages of this option include the opportunity to access several designers from various platforms, and the avenue to work with professional designers with special education and experience in designs. Lastly, you stand a better chance of getting a decent quality of finished logo with this method.
On the other hand, finding a good designer takes a long time, and extended efforts. It is also possible that you end up unsatisfied with the result, especially if you are not able to supervise the process effectively. There may be issues if your designer fails to grasp the uniqueness of your business. In other cases, your designer may even become suddenly unavailable or indisposed, making it impossible for him to work on the project.
On average, you will spend within the range of $50-100 and $500-1000 on the project, and the estimated time of delivery is within two days and one or two weeks.
Consulting A Design Studio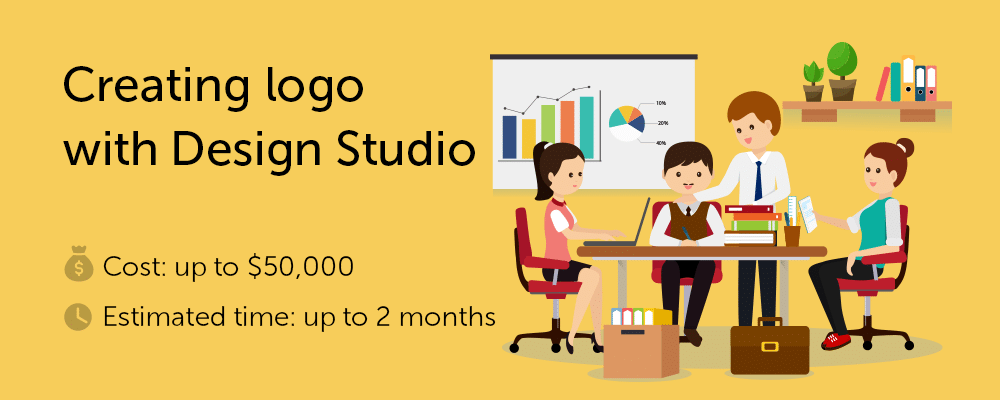 Here, you will need to find a suitable design studio, then work with the manager to create a detailed logo concept that will suit your needs, then wait for the final output. This option, as one of its advantages, offers you the opportunity of working with a talented design professional with a glowing reputation. There are also several good design studios to choose from, and negotiation is relatively flexible and open, after all, you will talk to the manager of the studio and not the designer directly. You are also guaranteed an excellent and prompt result, and ultimately a finished logo of top quality.
The cons of this option, however, is the relatively higher price and the amount of time it takes. You may have to wait for up to two months to get your work done, and it costs about $1000 in relatively unknown studios and up to $50,000 in renowned design studios.
Using The Contest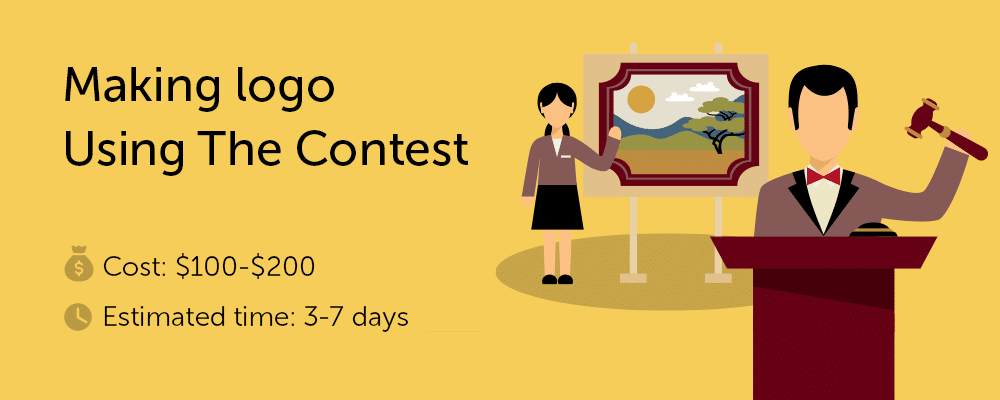 Websites like DesignCrowd or 99designs offer you unique logos at varying prices – DesignCrowd charges around $240 for a unique logo, while 99designs charges $99, but the logo may not be unique. Both options involve the creation of a comprehensive logotype concept and pay for it. It works such that your logo concept is posted for all designers on the platform to see, and any designer interested in the project will take the job. In the end, you will have to choose and pay for the winner.
The pros of this method include the opportunity of choosing from one of the ready-made logos. You are also open to communicating effectively with the designer, and the project takes little time. However, you must pay whether or not you like the output, and there is no time to work on any mistakes observed. Lastly, it is essential that you create a concise logotype concept, to ensure that the logo you get in the end matches your posted concept as well as meet your expectations.
You may have to wait for about two to four days to get your logo done through this method and be ready to spend between $100 and $200.
Using The Online Maker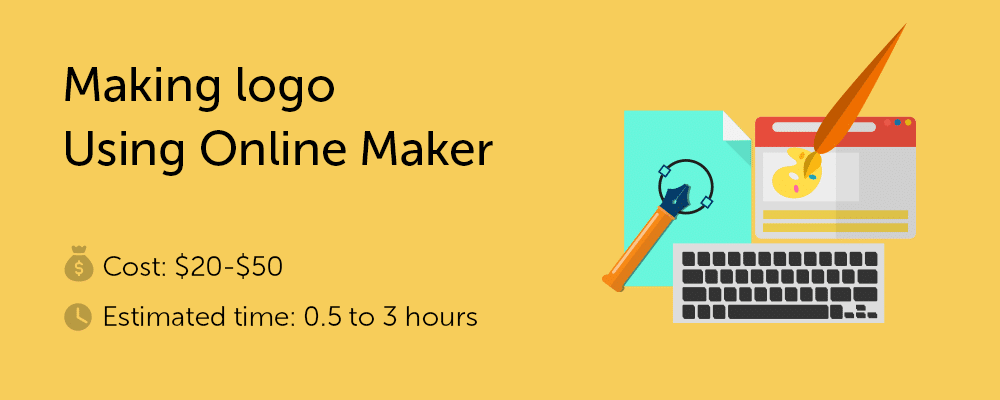 These online editors are similar to the popular Photoshop software; however, they are simpler and adapted for logo creation only. Several websites offer this feature, including www.logogenerator.com; www.logosnap.com; and others. You will find a collection of several fonts and icons on this website, and all you have to do is make your preferred combination of the color, icon, and fonts to create a good logo that meets your expectations.
Although these online editors are software with voluntary payments, you will still encounter some restrictions. Also, there is no prepayment of any form, and you are free to choose your preferred elements for your logo.
The cons now; you may not be able to deliver a good logotype, even with the nice icons, fonts, and color, if you have no design skills. In fact, the level of your design skills will affect the quality of the output. And lastly, you cannot modify the elements provided by these websites, no matter how insignificant it is.
This option only requires a time frame of 0.5 to 3 hours, and the average cost ranges between $20 and $50.
Using An Online Logo Generator – Turbologo.com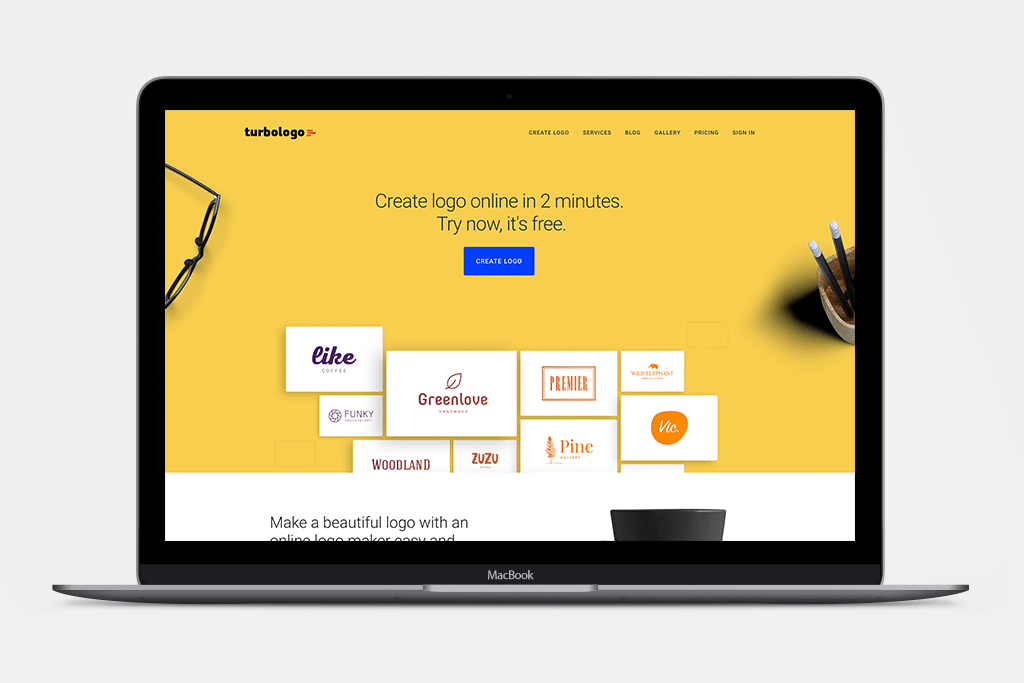 With this option, all you need to do is input the name of your business or company and select the type of business. Turbologo will process this information, and come up with logos of varying styles. More interestingly, the website allows the modification of your logotype concept in the course of the logo creation process, both automatically and manually.
The advantages of this option are numerous, including:
The elimination of the need to do a DIY logo creation.
Possible evaluation of the first output; effecting changes as desired. You only get to pay when the logo is entirely satisfactory.
It takes only a few minutes to complete the logotype creation process, and you can do this at any time of the day.
You are always in charge of the whole process, online.
You may save the logo without paying, and you can edit any of the logos at any time and according to your discretion.
You can consult friends and colleagues over your initial design and seek their opinions while coming back to apply such recommendations.
TurboLogo allows you to create business cards, envelopes, and related items instantly.
As expected, Turbologo comes with one or two disadvantages too – the stock images are not editable, and in most cases, a design studio or designer would do a better job of creating a distinct and befitting logo for your brand.
You are in and out within 20 minutes, and although the cost is free for small images, you may have to pay about $10 for full-size logos.
Making A Choice
Ordering from a design studio remains the best option, especially if it the company involved is considerably big. Although it may be relatively expensive, it offers an excellent results. For companies on a limited budget, Turbologo is a better option – it is free (except you want a full-size rendition of the logo) and you can be done in a concise time. You may also draw inspirations from the sample logos provided, and adopt such ideas in your logo design.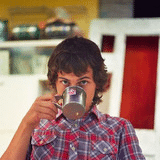 I'm a product and graphic designer with 10-years background. Writing about branding, logo creation and business.